Butler, Royals set sights on earning No. 1 seed
Veteran slugger says AL Central leaders not taking anything for granted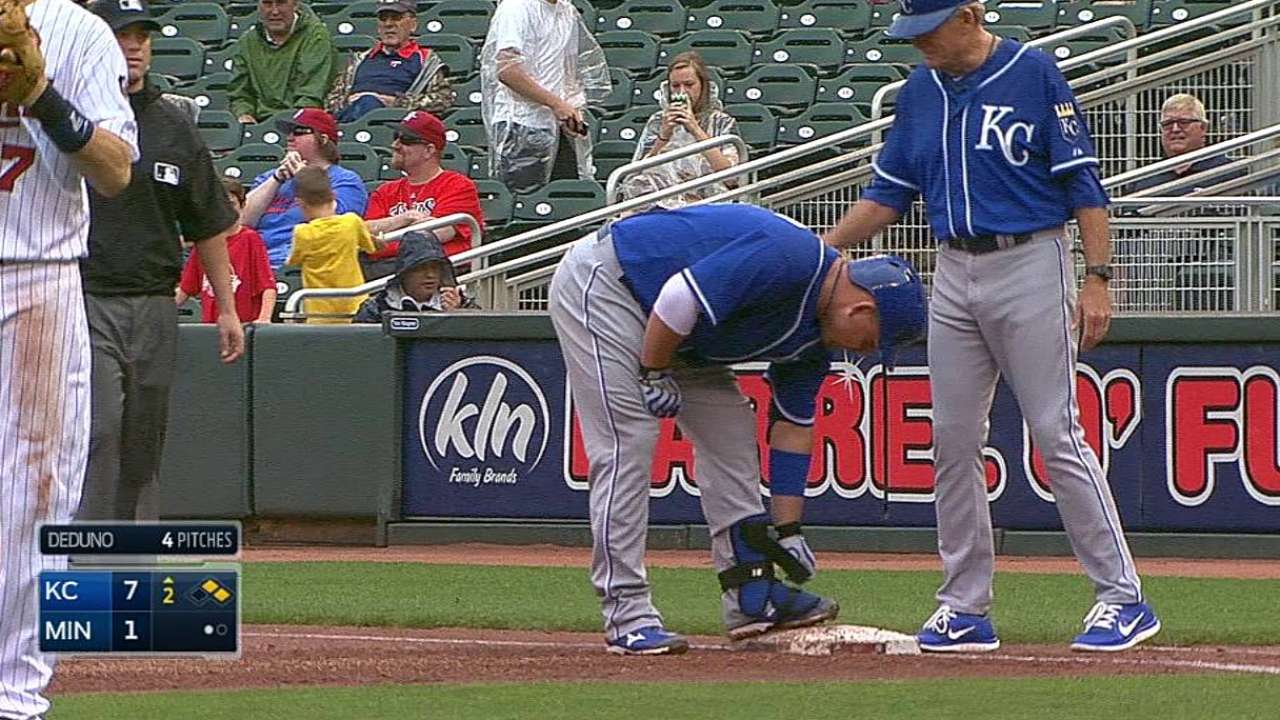 MINNEAPOLIS -- The way Billy Butler figures it, why should the Royals just settle for winning the American League Central? Why not improve their potential playoff position as well?
Butler believes the Royals are past the danger of faltering as they did after their 10-game winning streak in early June. After taking over first place then, they lost four straight and six of seven to fall behind Detroit again.
"I think we might have been on that real high, where we were, 'Omigosh, omigosh, omigosh,' and now we're doing just what we're expected to do. This is what we're expected to do," Butler said before Monday night's game against the Twins.
"We've shown we can play with the Tigers, we've shown we can play with the Oakland Athletics, we've shown we can play with the Anaheim Angels, we've show we can play with the Baltimore Orioles. I think that's when the light came on with us -- that we can play with all these teams and why is our record [not showing it]?"
Now that the Royals are back in first place, Butler wants them to focus on winning the division and, while they're at it, play for a better place among the AL seeds. If the season ended after Sunday's play, they'd be in the playoffs against the Orioles, but the O's would have the home-field advantage.
"If you're in first already, you've got to play for something. You need to stretch your lead out and you need to look forward to something and I think Baltimore is what we're looking at now -- trying to gain ground on that," Butler said. "More importantly, we want to separate ourselves from the Tigers if we can -- that's the main goal.
"We've got too much focus now to say, 'Hey, we're in first, we're fine.' No, It's like, 'We're in first, we need to stretch this lead out.' "
In fact, Butler feels that the Royals could even wind up with the best record among the division champions and snag the No. 1 seed, getting a playoff spot against the Wild Card survivor.
"Throughout the course of the season, we could continue playing well and get the No. 1 seed," he said.
There were still 39 games to go as Butler talked, of course, but you can't blame a guy for being ambitious. He was clear that the Royals are looking ahead, not looking back over their shoulders at the Tigers.
"We've said this ever since we got back to first -- 'We're not focused on what the Tigers are doing that day,'" Butler said.
Butler is seeing better days ahead.
"I've been part of this organization for 10 years and it's been a lot of growing pains at times. Until about like the second half of last year and this year, there's been a lot of struggle," he said.
"Like youth movements -- we knew we had the talent by having the top Minor League system and we already had a lot of young guys up here like me and Alex [Gordon] and other guys that were already good Major League players and we were just waiting for the process to take effect. When the second half started last year, it just took over. And, basically, we've been one of the better clubs in baseball since then, been well above .500."
The Royals had a late-season run at a Wild Card spot last year and Butler believes that experience has helped this year's club.
"That's the reason why we're not scared of nothing because we went through it last year," he said. "We're not scared to go out there and play aggressively. We're figuring out ways to win games instead of lose them like we did in the past. This group knows how to go out there and win ballgames and everybody in here knows that.
"We feel like we can win every day. We're not happy if we don't."
Dick Kaegel is a reporter for MLB.com. This story was not subject to the approval of Major League Baseball or its clubs.