Herrera enjoying being on roll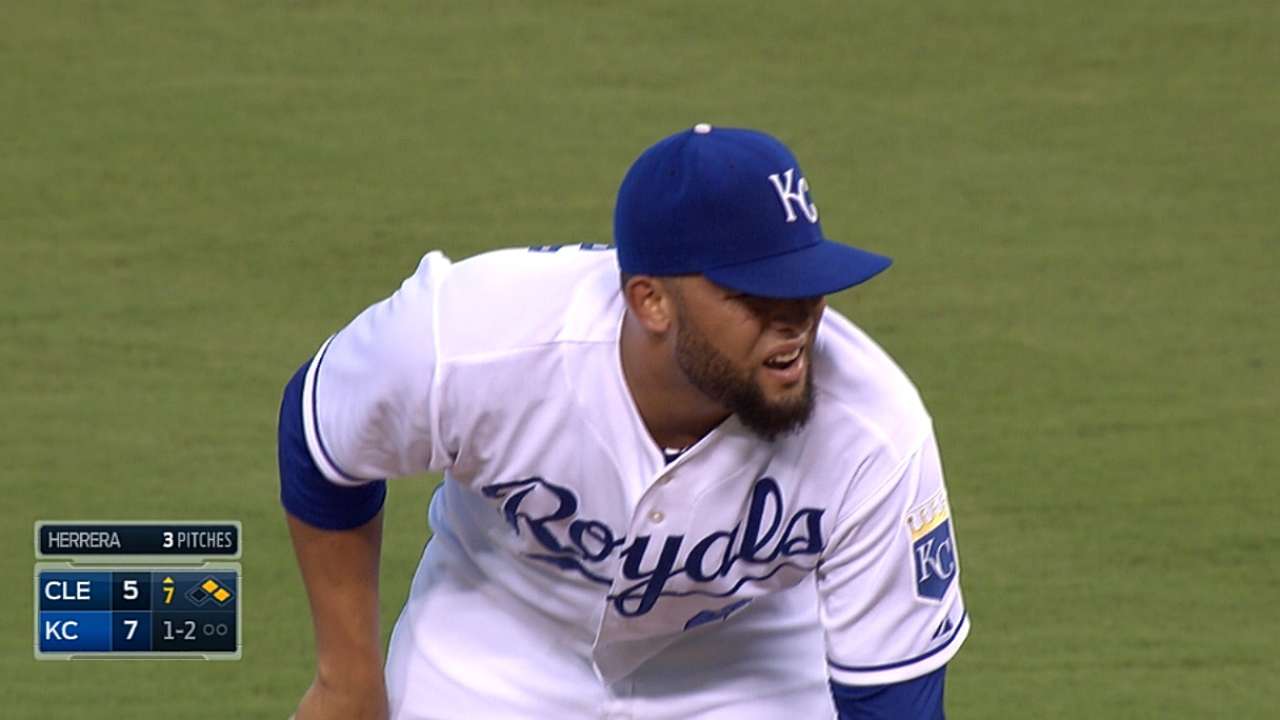 ARLINGTON -- Right-hander Kelvin Herrera has been on quite a roll.
After a rescue job in Friday night's 6-3 Royals win over the Rangers, Herrera had pitched 21 straight scoreless innings, dating back to June 27. Much to his surprise.
"Me? Wow?" he said with a grin. "That's pretty good, huh? Yeah, that's what I want, right?"
Yes, going into Saturday night's game, that was the second-longest such streak in the Majors. Only bullpen-mate Wade Davis had a longer scoreless streak, 22 2/3 innings.
Not only that but Herrera had not given up a home run all season -- in fact, since July 28, 2013. That was more than a year ago, but Herrera hasn't forgotten.
"July? Oh, yeah, against the White Sox," Herrera said. "I remember that -- against Conor Gillaspie. It was a low fastball. He hit a home run, line drive to right field."
No home runs this year. How many did he give up last year?
"Nine," he said. "Eight in the first half and one in the second half. The Gillaspie one was the only one in the second half."
After a couple of tours last year with Triple-A Omaha, Herrera got his command straightened out.
"The difference? Better location," he said. "I think that's the key, better location because last year I had the same velocity as I have this year. So maybe last year there were too many high pitches. This year, I'm keeping the ball down."
Closer Greg Holland was busy too on Friday night, getting his 40th save. He got to that plateau in Game 127, one fewer than Jeff Montgomery needed to reach 40 in 1993.
That plus a club record 47 last year made Holland the first Royals closer since Dan Quisenberry, 1983-84, to have 40 or more saves in successive seasons.
The Herrera-Davis-Holland threesome has been dynamite in the last three innings this season.
"Wade's doing a great job, Holland, too," Herrera said. "I hope we continue doing the same thing. That way, we can chase the dream, right?"
Dick Kaegel is a reporter for MLB.com. This story was not subject to the approval of Major League Baseball or its clubs.