Royals to pay tribute to Jeter on Monday night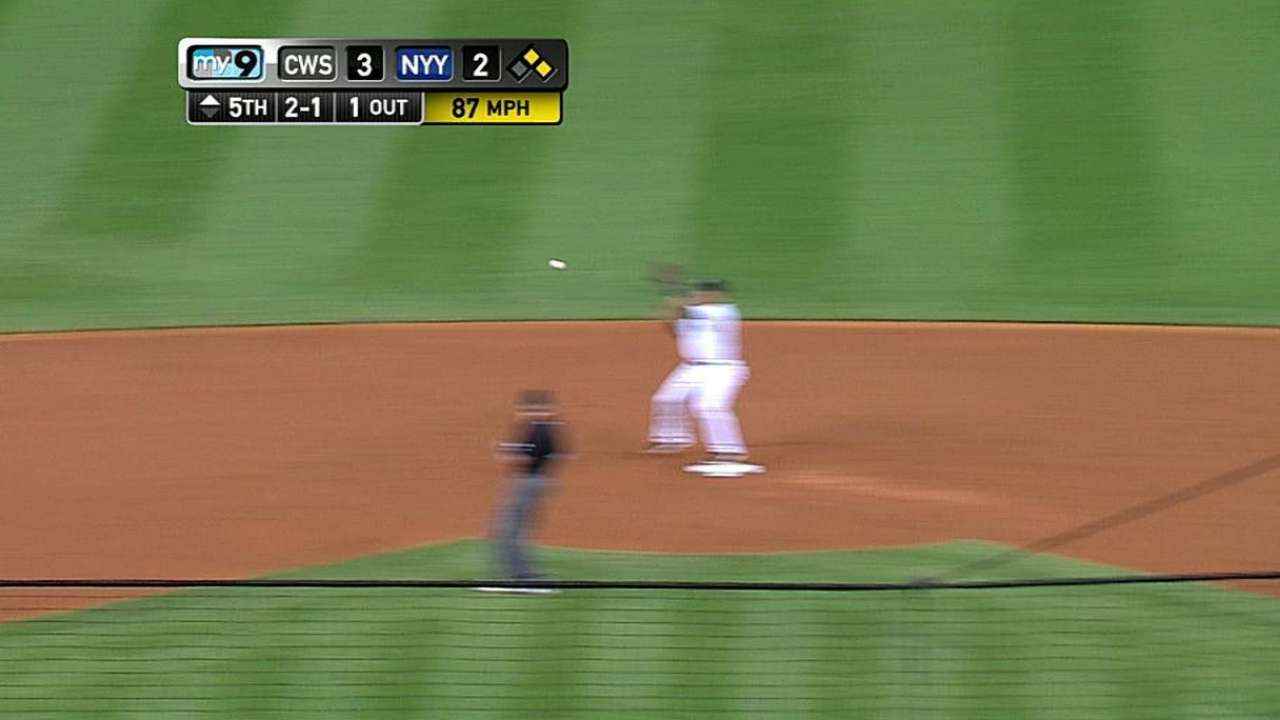 ARLINGTON -- The Royals, because of a rainout, will hold a delayed tribute to Yankees shortstop Derek Jeter for his distinguished playing career which ends this season.
Jeter will be recognized prior to Monday night's makeup game at Kauffman Stadium. To see the ceremony, fans should arrive at least 20 minutes prior to the 6:10 p.m. CT first pitch.
Royals Charities will present Jeter a $10,000 donation for his Turn 2 Foundation and fans will see a video tribute to the Yankees' captain who has hit .315 in 66 games at Kauffman Stadium. The event originally was scheduled for June 9.
New York's ceremony for Jeter will take place on Sunday, Sept. 7, at Yankee Stadium prior to the afternoon game against the Royals.
MLB.com has collected thoughts on Jeter from around the Major Leagues, asking players for one word to describe Jeter and then expand on it. Here's what some of the Royals had to say:
Outfielder Raul Ibanez
"Class."
"Pure class, he treats everybody with a great deal of respect. He's accomplished so much, but he's so humble about it. I have great respect and admiration for that quality. As a man and one of the best players to ever put on a uniform, he just carries himself with such great dignity and class all the time. He's always the same guy every day, no matter what's going on. A tremendous person."
Outfielder Alex Gordon
"Professional."
"Why do I say that? Just how he handles himself on a daily basis, on and off the field. He's a perfect example of what you want every teammate to be like."
Pitcher Bruce Chen
"Esteem."
"He's someone I really respect. He plays the game hard, he plays the game the right way. On his team, everyone acknowledged that he was the captain. He represented a franchise really well and helped his team win a lot of championships. He's held in the highest esteem."
Pitcher James Shields
"Professionalism."
"Everything he does is the right way to do things. He goes about his business the right way, he plays the game the right way. You want to emulate his approach to the game in all facets -- on the field, off the field, his charity stuff. He just does it right and I've always looked up to him. Professionalism is probably just one of a thousand words I could use to describe him as a baseball player."
Manager Ned Yost
"Steady."
"He's a guy that's been with a storied franchise his whole career and he's lived up to being a Yankee. He played the game hard every single day, he played the game right, he was a great professional. He never lost sight of who he was. He never got all big-headed, he always stayed in constant contact with who he was through all his success. He played the game with a lot of class, a lot of integrity and played it hard at an elite level."
Dick Kaegel is a reporter for MLB.com. This story was not subject to the approval of Major League Baseball or its clubs.