MLB.com Columnist
Jim Callis
Schwarber, Urias are Pipeline Prospects of the Week
Cubs slugger hit seven homers; Dodgers hurler fanned 18 over two appearances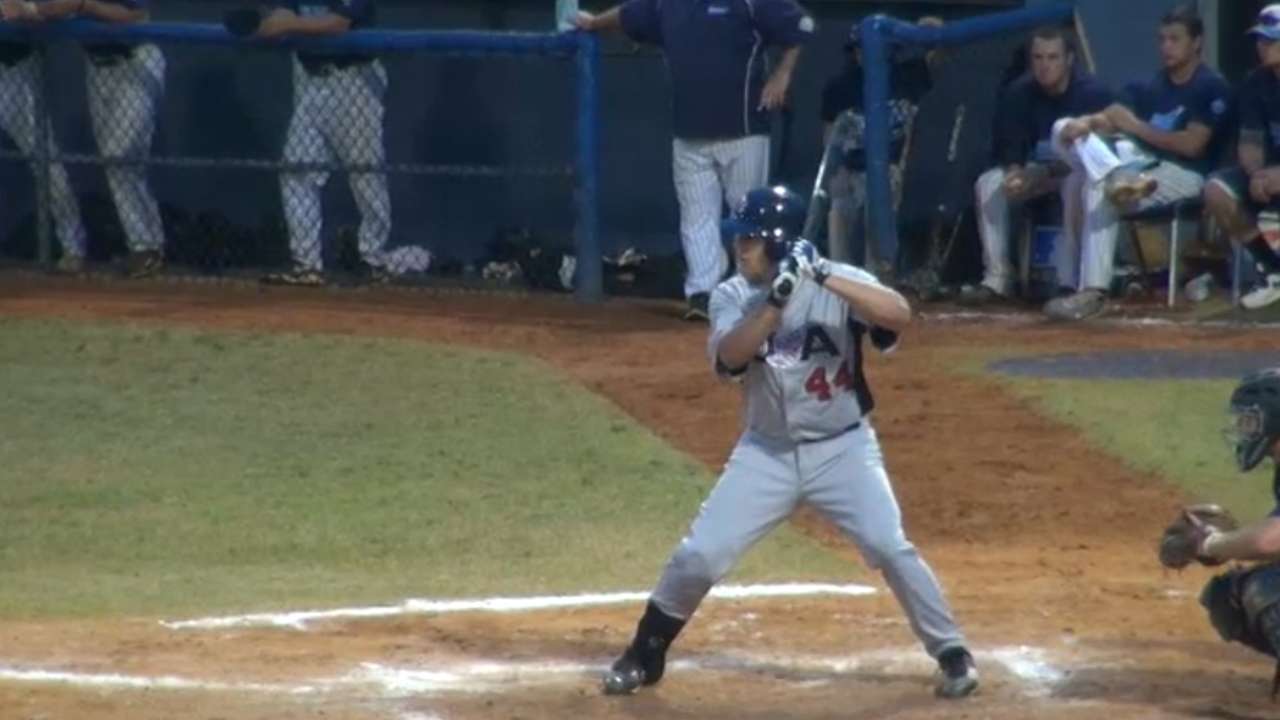 Throughout the season, the MLBPipeline.com staff will name Pipeline Prospects of the Week -- one hitter and one pitcher who excelled over the previous seven days. To qualify for selection, a player must rank among their organization's Top 20 Prospects, as listed on our Prospect Watch.
Pipeline Hitting Prospect of the Week: Kyle Schwarber, OF/C, Daytona Cubs (Cubs' No. 7 prospect), 8 G, 15-for-30 (.500/.529/1.333), 1.863 OPS, 4 2B, 7 HR, 8 R, 13 RBI
One of the reasons that the Cubs selected Schwarber with the fourth overall pick in the 2014 First-Year Player Draft was that he came with a discount, enabling them to save enough money to give seven-figure bonuses to high school pitchers Carson Sands, Justin Steele and Dylan Cease in the fourth through sixth rounds. But Chicago also believed Schwarber's talent made him worthy of a lofty choice, and he has done nothing to change that thinking since signing for $3,125,000.
In 67 pro games, Schwarber has batted .354/.444/.671 with 18 home runs and 52 RBIs. He has homered in his last five contests at high Class A Daytona, including a two-homer game on Sunday, and also is riding a streak of four straight multi-RBI performances.
The best all-around hitter in the 2014 college crop, Schwarber derives well-above-average left-handed power from his strength and bat speed. The 6-foot, 235-pound Indiana product has seen time at both catcher and left field as a pro, and he fits better at the latter position. He's another impressive slugger in a collection of Cubs position prospects that no other system can match.
Honorable mention
Elier Hernandez, OF, Lexington Legends (Royals' No. 16 prospect), 6 G, 16-for-25 (.640/.654/.840), 1.494 OPS, 2 2B, 1 HR, 9 R, 2 RBI
Joe Pederson, OF, Albuquerque Isotopes ( Dodgers' No. 3 prospect), 7 G, 7-for-24 (.292/.541/.708), 1.249 OPS, 1 2B, 3 HR, 10 R, 7 RBI, 12 BB, 2 SB
J.T. Realmuto, C, Jacksonville Suns (Marlins' No. 7 prospect), 6 G, 11-for-26 (.423/.500/.808), 1.308 OPS, 2 2B, 1 3B, 2 HR, 12 R, 9 RBI, 3 SB
Yorman Rodriguez, OF, Pensacola Blue Wahoos (Reds' No. 12 prospect), 7 G, 11-for-25 (.440/.529/.960), 1.489 OPS, 4 2B, 3 HR, 12 R, 10 RBI, 7 BB
Pipeline Pitching Prospect of the Week: Julio Urias, LHP, Rancho Cucamonga Quakes (Dodgers' No. 2 prospect), 0-0, 0.00 ERA, 2 G, 1 GS, 10 1/3 IP, 3 H, 0 R, 0 ER, 5 BB, 18 SO
The top left-handed pitching prospect in the Minor Leagues, Urias ranks 17th overall on the MLBPipeline.com Top 100 Prospects list. Incredibly precocious, he just turned 18 two weeks ago, yet has had no trouble carving up high Class A hitters.
Urias made two scoreless appearances last week, striking out 18 in 10 1/3 innings while permitting just three hits to improve his record to 1-2 with a 2.50 ERA with 105 whiffs in 82 2/3 innings. He hasn't allowed more than two earned runs in a game since April 25 and has been stronger than ever since appearing in the Futures Game, posting a 1.35 ERA with 58 strikeouts in 40 innings.
The Dodgers are trying to handle him carefully, but at this rate, Urias could pitch in the big leagues before he turns 20. He might even get to Los Angeles before he turns 19 because he has three above-average pitches in his 91-96 mph fastball, big-breaking curveball and sinking changeup. Once Urias fine-tunes his control and command, he won't have anything left on his to-do list.
Honorable mention
Brian Johnson, LHP, Portland Sea Dogs (Red Sox's No. 10 prospect), 1-0, 1.29 ER, 1 GS, 7 IP, 1 H, 1 R, 1 ER, 2 BB, 10 SO
Taylor Jungmann, RHP, Nashville Sounds (Brewers' No. 10 prospect), 1-0, 0.00 ERA, 1 GS, 6 IP, 2 H, 0 R, 0 ER, 1 BB, 7 SO
Francellis Montas, RHP, AZL White Sox (White Sox No. 3 prospect), 1-0, 1.00 ERA, 2 GS, 9 IP, 4 H, 1 R, 1 ER, 3 BB, 14 SO
Nick Tropeano, RHP, Oklahoma City RedHawks (Astros' No. 13 prospect), 2-0, 1.42 ERA, 2 GS, 12 2/3 IP, 7 H, 2 R, 2 ER, 1 BB, 12 SO
Mike Wright, RHP, Norfolk Tides (Orioles' No. 7 prospect), 1-0, 0.00 ERA, 1 GS, 7 IP, 3 H, 0 R, 0 ER, 1 BB, 11 SO
Jim Callis is a reporter for MLB.com and writes a blog, Callis' Corner. Follow @jimcallisMLB on Twitter. This story was not subject to the approval of Major League Baseball or its clubs.