Hosmer makes progress by seeing pitches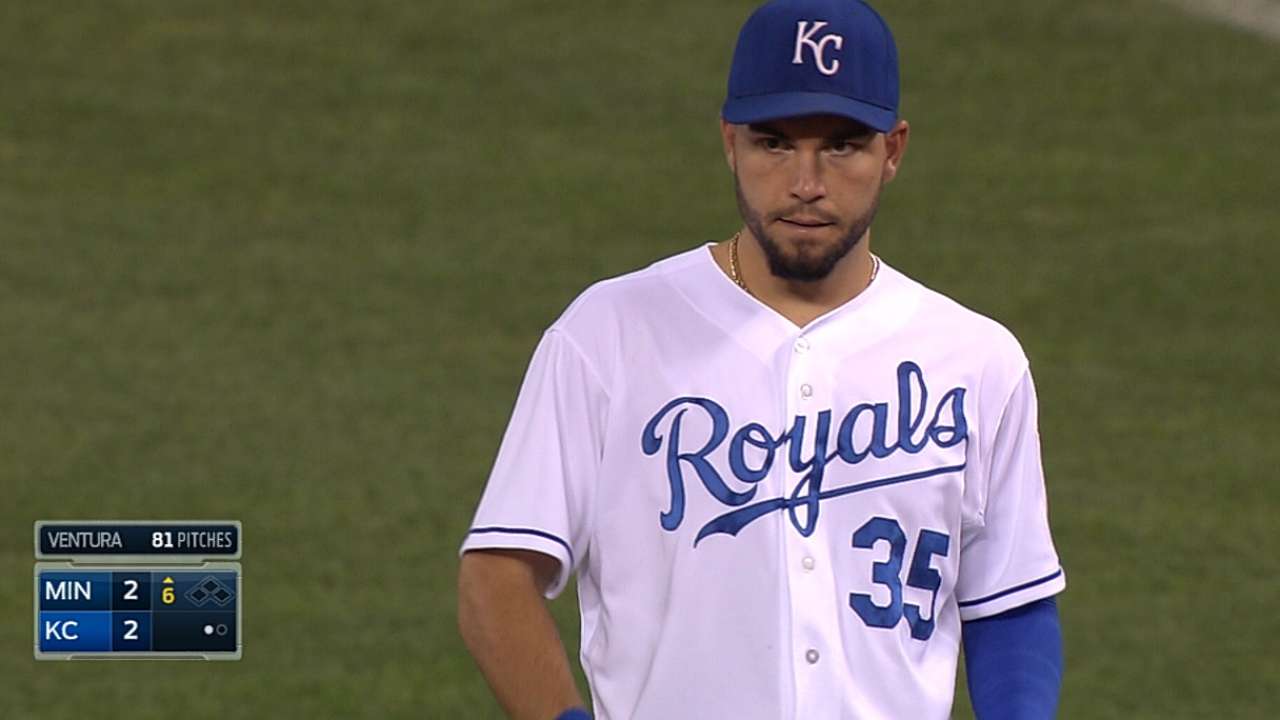 KANSAS CITY -- Eric Hosmer stood in the batter's box on Monday afternoon and took some pitches. Literally took some pitches, because he's not permitted to swing at them.
But even that, for Hosmer, is significant progress.
The Royals' first baseman has been on the disabled list since Aug. 2 with a fractured third metacarpal on his right hand, and he hasn't been an active participant in the team's rise to first place.
But now he's getting closer to returning to the lineup. He can at least take some practice swings as long as he doesn't hit anything.
"He can swing but he can't hit. He'll go till Thursday with dry swings, then he can start hitting off a tee on Friday, and then we'll go from there," said manager Ned Yost.
Hosmer gazed at pitches thrown by left-hander Scott Downs, himself recovering from a stiff neck.
After traveling with the club on its 6-3 trip, Hosmer underwent a CT scan on Monday in Kansas City and got good news.
"They said it's good, it's healing up really nice. We're good to start the hitting progression, so basically now we just start taking swings, start lightly and see how it feels," Hosmer said.
Hosmer no longer has to wear a cast full-time on his right hand, and he took a round of fielding practice on Monday that went well.
The Royals are running out of time for a Minor League rehab assignment for Hosmer because the Minor League season ends next Monday. But Triple-A Omaha could reach the playoffs and extend its season, providing a further opportunity.
"If there's still Minor League games going, we'll send him on a rehab. We're hoping Omaha makes it [to the playoffs] so we can do that," Yost said. "If we get him 15 or 20 at-bats, we'll be doing good. Much better than doing nothing. Or trying to work him in up here."
Meantime, Downs could be activated prior to the Sept. 1 callup date. He hasn't pitched since Aug. 2.
"See if we can find a way to get him available for Cleveland, with their load of left-handed hitters," Yost said.
The Indians come in to start a series on Friday night.
Hosmer stood in the box as Downs threw about 25 pitches on Monday afternoon but didn't do anything reckless like hack at a ball.
"We don't have to dial him back," Yost said. "He knows he's got one shot at this and he's got to do it right. He's been very smart about this."
But Hosmer was a bit tempted.
"I was," he said, grinning. "I knew what was coming, too, so I was even more tempted."
Dick Kaegel is a reporter for MLB.com. This story was not subject to the approval of Major League Baseball or its clubs.