Ventura to miss Twins start with back ailment
Hendriks coming up from Triple-A Omaha to fill in for rookie right-hander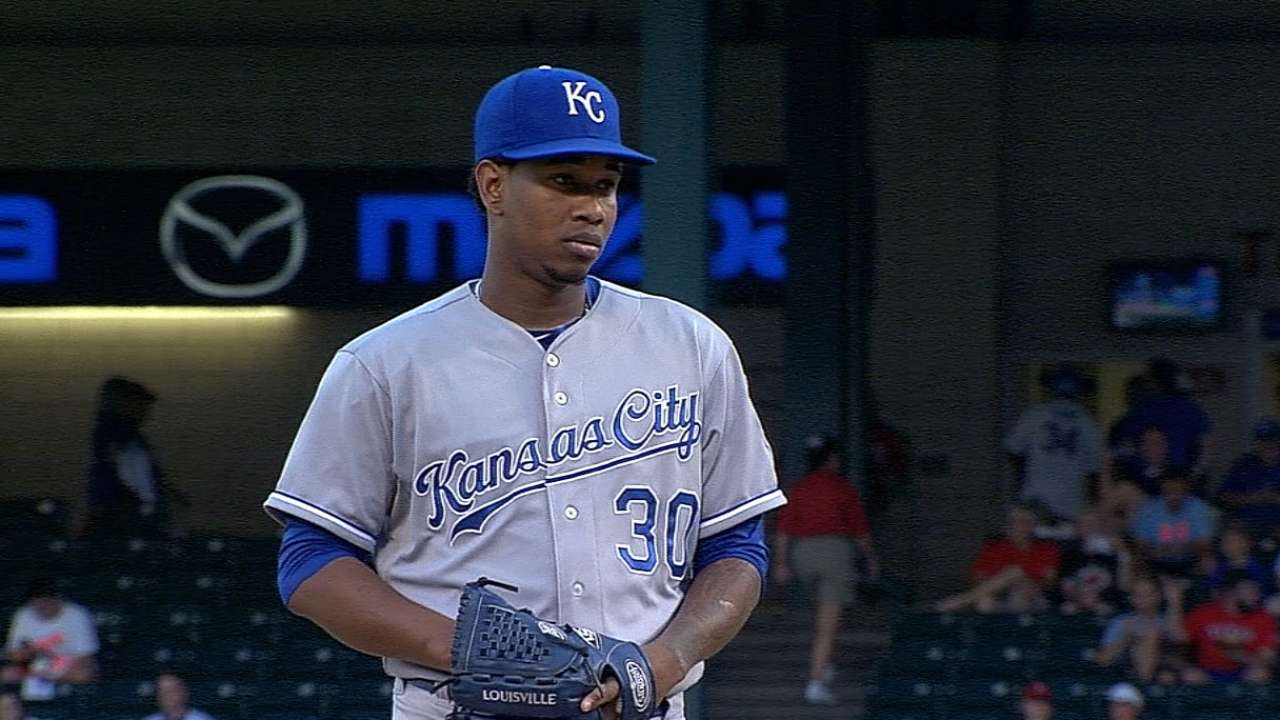 KANSAS CITY -- The Royals are hoping that rookie right-hander Yordano Ventura will miss just one start because of mid-back tightness.
Ventura was scratched from his scheduled start against the Twins on Wednesday night at Kauffman Stadium. He'll be replaced by right-hander Liam Hendriks, who was called up from Triple-A Omaha for the occasion.
That means a player will have to be dropped from the 25-man roster before the game.
Hendriks, 25, is an Australian who has had a very successful Triple-A season this year. In a total of 23 games for Omaha and Buffalo, he's 12-2 with a 2.45 ERA. He's also had 126 strikeouts against a mere 13 walks in 143 innings.
"He throws strikes," manager Ned Yost said. "They like him, they like his stuff."
Yost said that Ventura began feeling tight last Friday night after pitching six innings of a 6-3 victory at Texas. He gave up just four hits and one run, but he was pulled after 107 pitches.
"After his last start, he developed a little bit of mid-back tightness," Yost said. "It's gotten better, but we're not going to push it, we're going to skip him a start."
Ventura has become an important part of the Royals' rotation as they pursue a playoff berth. He's 10-9 with a 3.40 ERA in 25 games and he has racked up 125 strikeouts in 145 2/3 innings.
Yost insisted that he wasn't overly concerned about Ventura's back.
"There's the hope that he's not going to miss anything more. He's made good progress to this point. He's feeling much better," Yost said. "We could try to push it, but it doesn't make much sense right now. Let him get through it."
Hendriks was obtained from the Blue Jays along with catcher Erik Kratz on July 28 in a trade for third baseman Danny Valencia.
After the trade, in five starts for Omaha, Hendriks was 4-1 with a 2.83 ERA and had 35 strikeouts and just six walks in 35 innings. Before the deal, he was 8-1 with a 2.33 ERA in 23 games for Triple-A Buffalo.
He's pitched in four big league seasons for the Twins and Blue Jays with a composite 3-13 record and 6.06 ERA in 33 games.
Most of Hendriks' experience was with Minnesota, the team he'll be facing.
"It's going to be interesting. It could be really good or really bad," Hendriks said. "But I'm going to go out there and pitch the same way I have been. The way I've been pitching this year, I wasn't pitching that way last year with them. So hopefully, it will catch them off guard a little bit and I can get ahead, and put us in a winning position."
Hendriks is the third Aussie to play for the Royals. The others were first baseman Justin Huber (2006-07) and pitcher Graeme Lloyd (2002).
Hendriks really didn't know what to expect when he arrived from Perth in 2007.
"I had no idea. I came over as a fresh-faced 18-year-old. It was a little eye-opening," he said. "I was lucky enough to be with the Twins, where they had a few Australians in the Minor Leagues that I was able to hang out with. I'd go back and forth [to Australia in offseason]. Hopefully with the Royals, I get a chance to take up here and do some good."
The ambassadorial side of Yost pointed to an additional motive for bringing in Hendriks.
"We wanted to add to our cultural habitat in there since he's Australian," he said.
The Royals also have players from Venezuela, the Dominican Republic, Panama, Puerto Rico, Cuba, Japan and 14 of the 50 United States.
"It gives more of an international flavor in the locker room," Yost said.
Dick Kaegel is a reporter for MLB.com. This story was not subject to the approval of Major League Baseball or its clubs.