Royals claim Nix off waivers, activate Downs
Hendriks optioned to Double-A following solid start Wednesday vs. Twins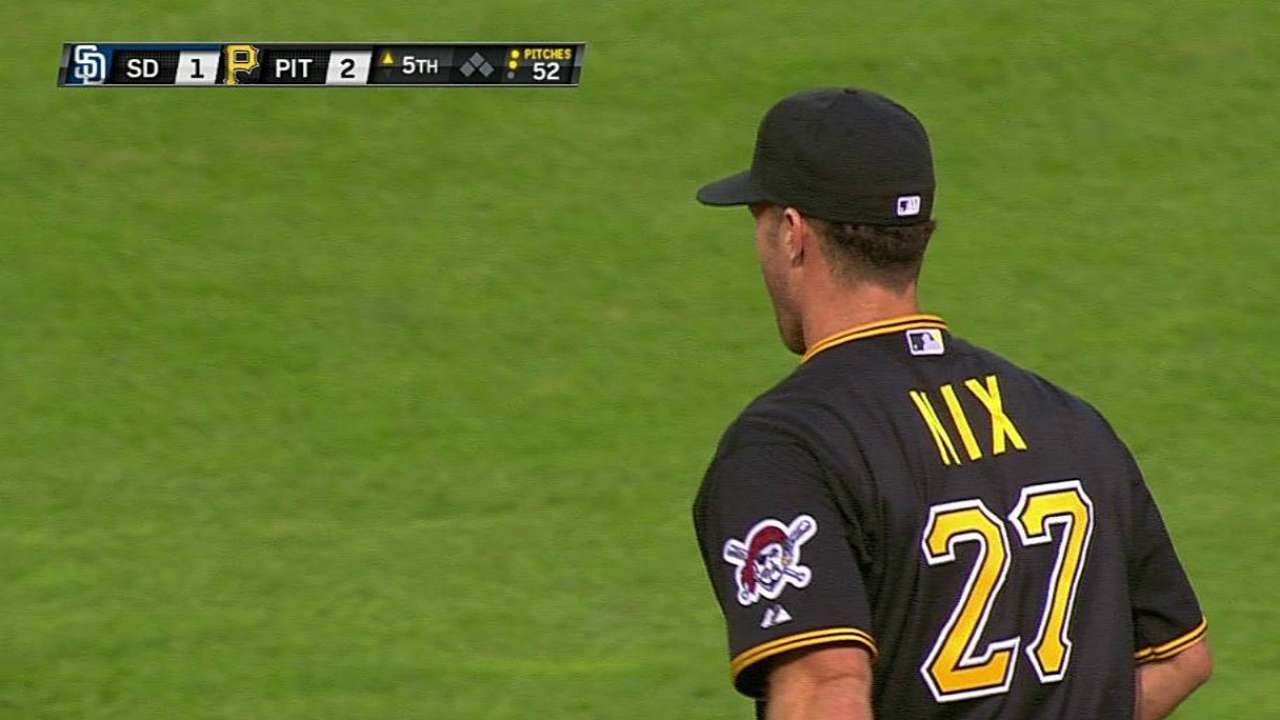 KANSAS CITY -- Infielder Jayson Nix is being brought on board strictly to improve roster depth, Royals manager Ned Yost said on Thursday.
Nix, 32, was claimed off outright waivers from the Pittsburgh Pirates and is expected to join the Royals by Saturday.
The Royals also activated left-handed reliever Scott Downs off the disabled list and optioned right-handed pitcher Liam Hendriks to Double-A Northwest Arkansas.
Hendriks, in his first start for the Royals, held the Twins to one run in seven innings in the club's 6-1 victory on Wednesday night. Downs has been out since Aug. 2 with a stiff neck.
To clear space on the 40-man roster for Nix, the Royals placed pitcher Michael Mariot (right hamstring strain) on the 60-day disabled list.
"We got another guy for depth in the infield. We really love the job that Christian Colon has done but going into September, we felt we needed another infielder for depth," Yost said. "Jayson Nix is a veteran guy and has played in big markets and fits our mold here of players that we like to bring in."
The Royals must put Nix on the 25-man roster as soon as he reports so it's anticipated that Colon will be temporarily optioned to the Minors until he can be brought back in a couple days.
"Nix is a wonderful guy they say, a gamer-type guy who'll do whatever you want. He's going to fit nice here," Yost said.
There are no plans to put second baseman Omar Infante on the disabled list because of his sore shoulder. He's expected to be back in the lineup on Friday or Saturday.
"We might give him one more day, but he's feeling much better. It'll either be tomorrow or Saturday for sure," Yost said.
Infante's shoulder bothers him primarily when he throws so he was going to try some tosses on Thursday.
Hendriks will report to Northwest Arkansas but will return to Kansas City when the Naturals' season is over and work out of the bullpen.
"The kid comes in, got good stuff, throws strikes and he's not scared," Yost said. "He's just another guy we can use along with [Jason] Frasor and Downs, and Aaron Crow. He's going to be of benefit to us."
Crow is also with Northwest Arkansas, optioned out to make room for Hendriks' start in place of Yordano Ventura.
After being signed as a free agent, Downs appeared in 12 games for Kansas City with one loss and a 3.48 ERA.
Yost wanted him back in time for the weekend series with Cleveland because the Indians have many left-handed hitters. Downs has held lefties to a .182 (4-for-22) mark.
Dick Kaegel is a reporter for MLB.com. This story was not subject to the approval of Major League Baseball or its clubs.