Hosmer to begin rehab assignment at Omaha
First baseman is looking to rejoin Royals after four to five games in Minors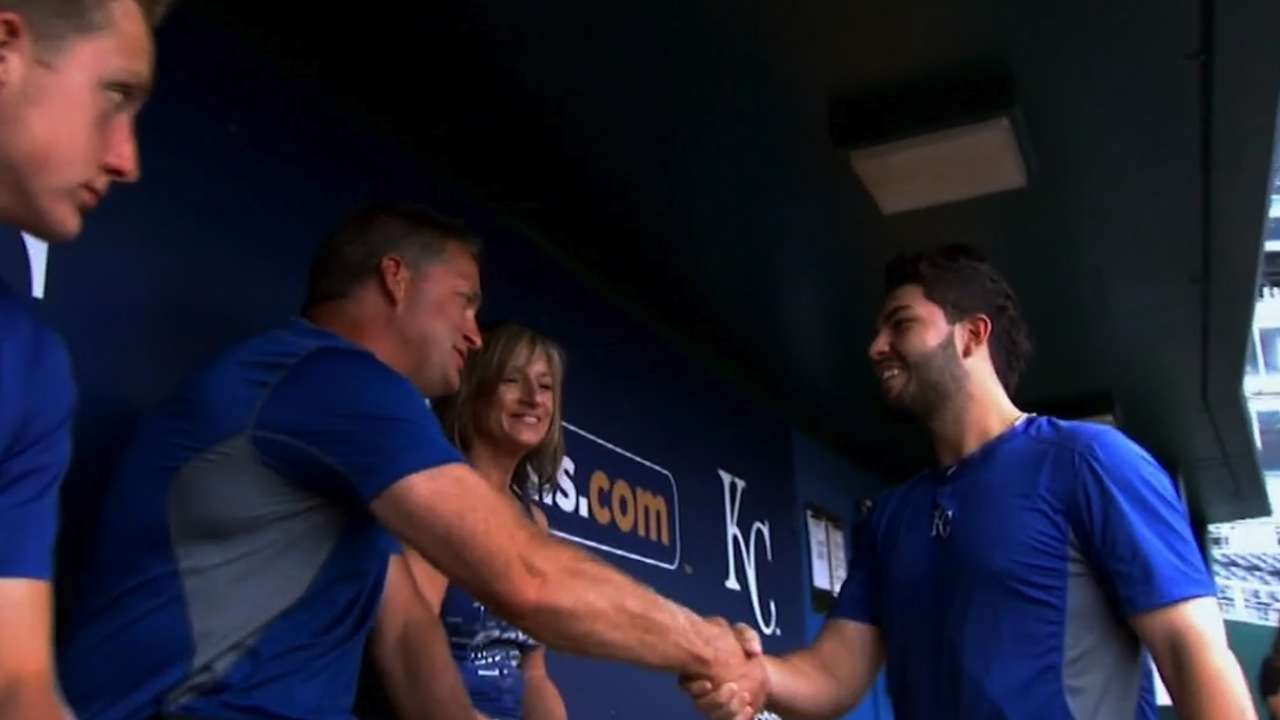 KANSAS CITY -- Royals first baseman Eric Hosmer will begin his comeback in game situations on Saturday.
Hosmer hasn't played since July 31 because of a stress fracture in his right hand, but that's to end when he reports to Triple-A Omaha for a game against Colorado Springs.
Omaha has just three regular-season games remaining so, unless the Storm Chasers make the postseason, the Royals will send Hosmer to Idaho Falls for more games. Their Rookie classification team there has made the Pioneer League playoffs.
Manager Ned Yost figures Hosmer will need four or five games to get ready to rejoin the Royals.
"Twenty at-bats to get his eye back," Yost said before Friday's series opener against the Indians. "He's already taken BP today, he feels fine. He's ready to go."
Hosmer was batting .267 with six homers and 46 RBIs when he went on the disabled list. However, in July, he hit .366 in 22 games with 11 RBIs.
"I'm looking forward to getting back into action, getting some at-bats in, getting some timing and try and get back up here with these guys," Hosmer said.
Hosmer is hoping to help Omaha gain the Pacific Coast League playoffs by winning the division.
"That would make the rehab stint a lot easier, a lot easier on the travel too, so that would work out a lot better," Hosmer said. "The good thing is there are games out there so even if the Omaha thing doesn't work out, there are games in Idaho so there are a lot of opportunities for at-bats."
Hosmer was hit in his hand by a Jon Lester pitch on July 20 at Boston. He tried to come back three days later, but he still felt pain and subsequent attempts to return were unsuccessful as well. So, he went on the disabled list retroactive to Aug. 1.
"Everything feels really good, that's why we're able to go and play in these games tomorrow," Hosmer said. "We've hit on it, came back the next day and hit and came back another and hit. There have been no problems so it's a smart choice for us to go on to the next step, live pitching in game situations."
Hosmer could only be a spectator as the Royals got hot and eventually took over first place in the American League Central.
"It was fun to watch, though. I'd rather watch that than watch them lose. It was fun," Hosmer said.
Dick Kaegel is a reporter for MLB.com. This story was not subject to the approval of Major League Baseball or its clubs.