Perez's control of running game earns high praise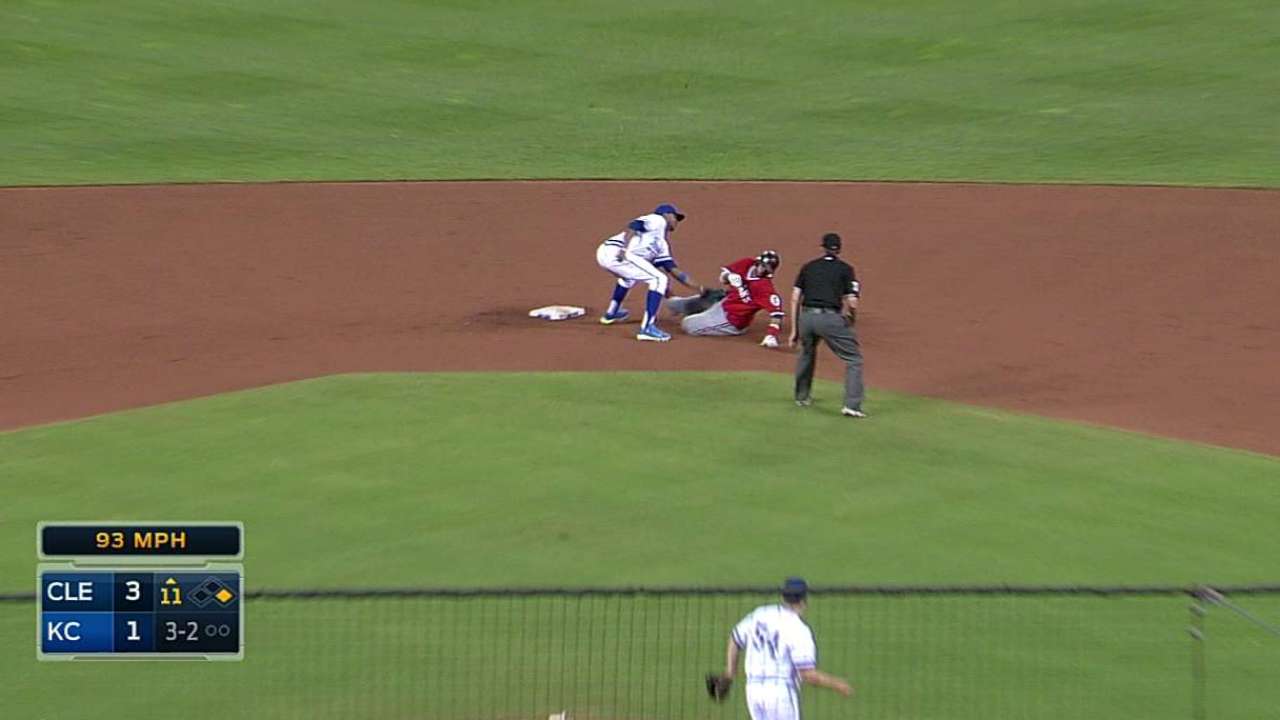 KANSAS CITY -- When lightning strikes from Salvador Perez's arm, opposing baserunners feel the bolt. Or the tag.
That's happened 19 times this season to would-be base thieves who have challenged the Royals' catcher, including one in each of the three games leading up to Sunday's series finale against the Indians. Perez gets off his throws quickly and with precision.
"Lightning quick," said manager Ned Yost. "Good lower half, good short release, good accurate arm with strength."
Perez's throwing time, glove to glove, to second base has been clocked at 1.83 seconds, and he usually hits about 1.9, as contrasted with the Major League average of 2.0, according to Yost.
"I don't worry about my time, I just worry about throwing the guy out," Perez said.
It's a natural ability sharpened by daily work with Pedro Grifol, the Royals' catching coach.
"I have to work a lot on that with Pedro." Perez said. "Every day, before the game, we work on little moves to get loose. I don't actually make the throws to second base, just the moves."
Perez's 19 throwouts give him 30.2 percent efficiency, although the 63 attempts also include stolen bases affected by errant pitches or plays in which a throw isn't even made. But 30 percent is considered a very good percentage for all the flaws inherent in the statistic.
Indians runners didn't have to contend with the Perez arm on Sunday night. He was in the lineup as designated hitter.
Grifol works with Perez on transferring the ball cleanly, staying quick on his feet, repeating the actions so he doesn't get stale after going three or four games without a runner attempting a steal.
Has Grifol seen other catchers as quick on the throw?
"I think they're out there, but I don't think I've ever seen a guy that size that quick and that accurate," Grifol said. "It's a combination of quickness, arm strength and accuracy, which is what makes him great. He's got all three, and he combines them good and he's 250 pounds. So he's really a freak.
"But what I like about him is he's smart, he loves to work and he wants to be great. And he knows that being great is not going to happen by just going out there and playing. He works at it, he works at being great, which makes it that much more fun to be around him and work with him."
Perez often guns his throws from his knees, a move that he also works on.
"If the pitch is down and away, I think it's quicker if I go down on my knees. It works pretty good," Perez said.
Works splendidly, according to Yost.
"It's just getting rid of it. Velocity is exactly the same and his accuracy is not affected by it," Yost said.
Perez is also a video hawk, doing a lot of homework in front of a screen.
"I watch a lot of video from [the Cardinals' Yadier] Molina," he said. "You can learn from the best guy in the Majors, right?"
Former Detroit manager Jim Leyland has become a Perez fan. While comparing current catchers with former star Ivan Rodriguez recently, Leyland said:
"Salvador Perez is unbelievable, and [Matt] Wieters from Baltimore is really good. But Salvador Perez from Kansas City is absolutely fantastic. I think if you're looking for somebody that's just totally lights-out, Salvador Perez is the big dog right now. He's the Pudge Rodriguez of [today]."
Dick Kaegel is a reporter for MLB.com. This story was not subject to the approval of Major League Baseball or its clubs.