Hosmer returns to Royals lineup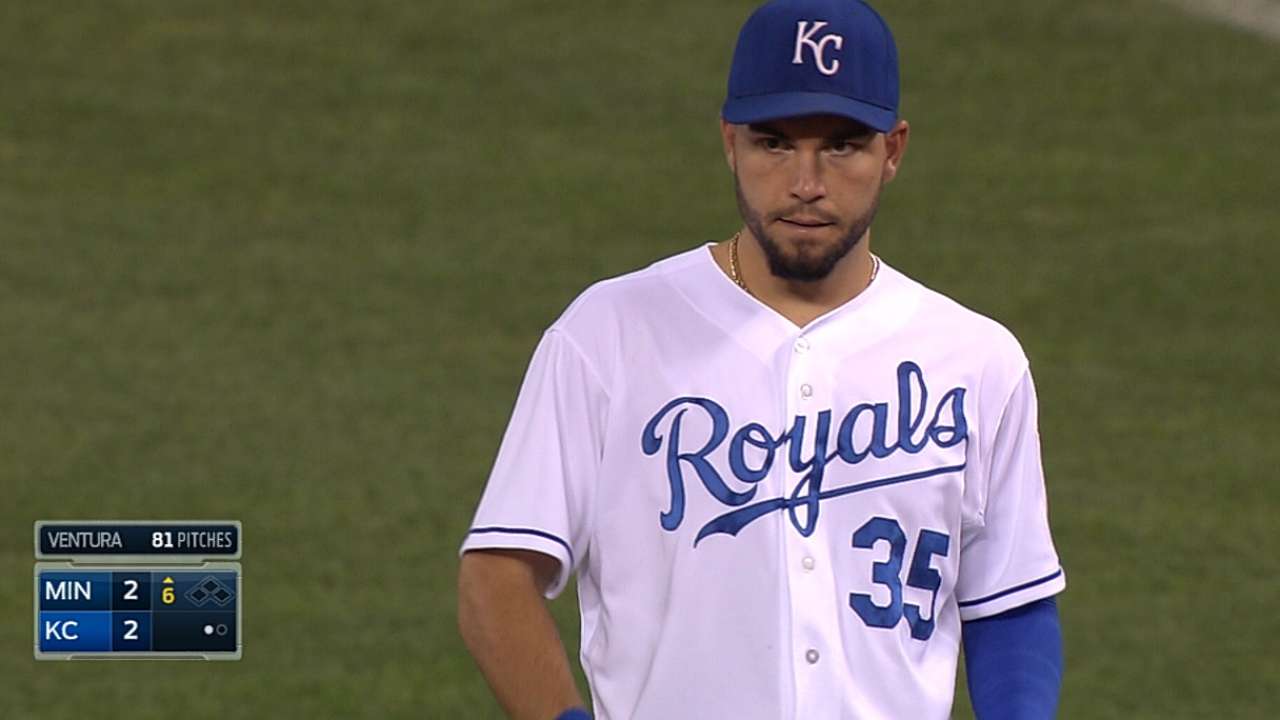 KANSAS CITY -- Eric Hosmer is back.
The Royals recalled Hosmer, their regular first baseman, from his injury rehabilitation assignment with Triple-A Omaha on Monday after just two games with the Storm Chasers. He went 3-for-10 with a home run, a walk and three RBIs.
On Sunday night, Hosmer's homer helped Omaha secure a spot in the Pacific Coast League playoffs, but his rehab stint was declared over.
"We need offense and after the game last night, our scouts that were there watching said he's ready. So we got him back up here, see if we can get some runs on the board," manager Ned Yost said.
Hosmer last played with the Royals on July 31.
"It feels good to be back with the guys here and I've heard that the rehab process takes a long time but once we started hitting and started to do some baseball activity, it really sped up and went by pretty quick," Hosmer said.
There was added incentive because of the Rangers' starting pitcher on Monday night.
"You look at Colby Lewis, we need some offense," Yost said. "Lefties are hitting like 60, 70 points higher off him so we put [Carlos] Peguero in there, Raul [Ibanez] in there, Hoz in there -- we've got to get some offense going."
Hosmer went 1-for-4 in his return -- getting a single off Lewis -- and stole a base. He also booted a ground ball, the Gold Glover's seventh error this year.
Hosmer sustained a stress fracture of his right hand when hit by a pitch July 20 at Boston, but he tried to play off and on until going on the disabled list on Aug. 1.
"That's all behind me now," Hosmer said. "It's been four or five days of constant batting practice and the games in Omaha. So we've been putting a lot of work on it and it hasn't been sore, it's responded well so it's all good and we can finally put that behind me and it's fully healed up and ready to go."
Before going on the disabled list, Hosmer aggravated the injury with a check swing.
"There were a couple of awkward swings in Omaha. I swung through a changeup on one and didn't feel anything. And there was an offspeed pitch away and I had to foul it off. I didn't really feel anything on that, either," he said. "Those are definitely good signs because that's what irritated it last time. We got in game situations, we've done everything we can, so it's back and ready to go."
During Hosmer's absence, the Royals got hot and climbed into first place so he's anxious to get into the pennant race.
"Each game is a big game, it's basically a playoff game for us," he said. "It's September 1 and you're at the top of your division. There's not a much funner situation to come into."
Dick Kaegel is a reporter for MLB.com. This story was not subject to the approval of Major League Baseball or its clubs.