Peguero heads lists of September callups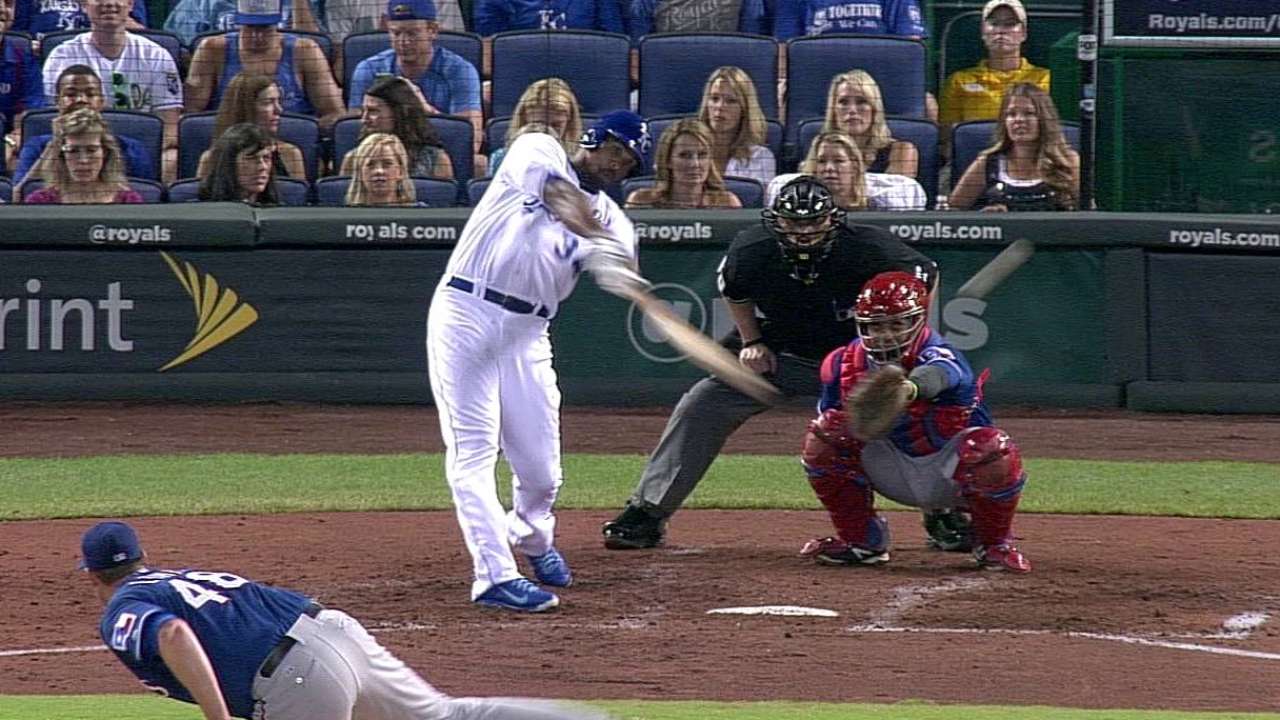 KANSAS CITY -- Carlos Peguero finished Triple-A Omaha's rain-delayed game about 1:30 a.m. on Monday morning and was called into manager Brian Poldberg's office. Pack your packs and head for Kansas City, he was told.
So he got some sleep, drove to Kauffman Stadium and saw his name in the Royals' starting lineup for Monday night's game against the Rangers. Peguero packs a powerful left-handed bat -- he hit 30 home runs for the Storm Chasers.
In addition to Peguero, the Royals on Monday announced that infielder Johnny Giavotella, catcher Francisco Pena and pitcher Casey Coleman were being called up from Omaha.
The Royals also announced that Omaha pitchers Chris Dwyer and Blake Wood were designated for assignment, clearing 40-man roster space for incoming pitcher Brandon Finnegan and Peguero.
Was Peguero surprised that he was in the lineup?
"Not really, every time you come here with a baseball team you've got to set your mind to be ready every day and think about how I can help the team win," Peguero said. "We're in good position here now and I'm just going to try to enjoy my time here. The guys that are here are the guys that I saw this year in Spring Training so it's an honor for me."
Manager Ned Yost was quick with his pencil.
"We sorely need some offense, we just got through playing four games where if we had just a little bit of offense, we'd have won all four of them," Yost said. "The pitching was great, the defense was great. So we're just looking for a way to score some runs."
Peguero pitched right in during the Royals' 4-3 victory. He belted a double to left field and then scored on Mike Moustakas' single. He also demonstrated a cannon throwing arm from right field, holding Adrian Beltre to a single on a ball off the wall.
Of Peguero's 30 homers, 15 came in August alone.
"He got hot, it's as simple as that," Yost said. "He 's got good power, that's why we put him in there. We don't want him sitting around getting cooled off. We need some offense here. If we get some offense, we're going to do some real damage."
In 104 games, Peguero's average was .266 with 76 RBIs and 17 doubles. He's had previous Major League experience with Seattle in 2011-13, batting .195 with nine homers in 65 games.
Giavotella, once considered the heir apparent at second base, has been with the Royals in each of the last four seasons, including 10 games this year. In all, he's been in 123 big league games with a .235 average.
This summer for Omaha, Giavotella batted .308 with seven homers, 33 doubles and 61 RBIs.
Pena, son of former Royals manager and current Yankees coach Tony Pena, is in his first season in the Kansas City organization. He banged 27 home runs for Omaha with 61 RBIs and a .240 average in 96 games.
He got into his first big league game earlier this year, catching one inning on May 20.
Coleman was 5-1 with a 2.65 ERA in 35 games for Omaha. He was up briefly with Kansas City this year, pitching in three games. For parts of three years, 2010-12, he pitched for the Chicago Cubs.
Dick Kaegel is a reporter for MLB.com. This story was not subject to the approval of Major League Baseball or its clubs.