Finnegan takes quick trip to big leagues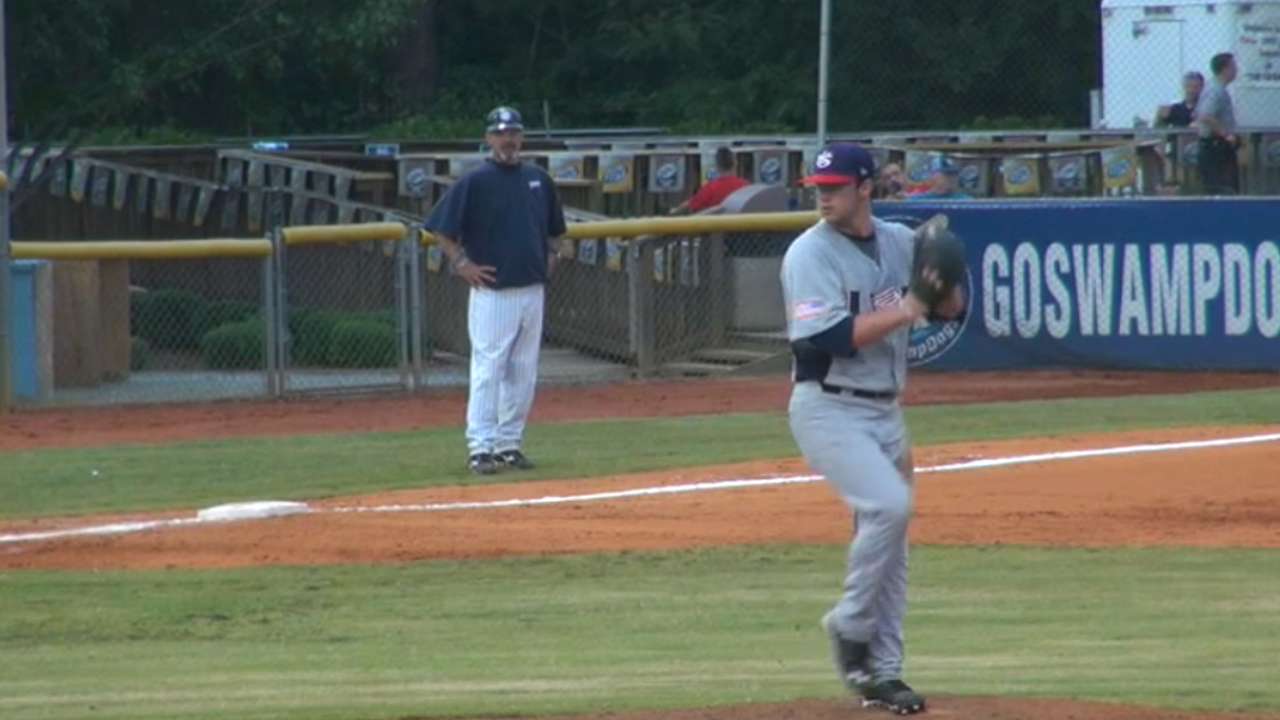 KANSAS CITY -- Clubhouse leader and pitching ace James Shields good-naturedly made sure the raw rookie knew his place.
Left-hander Brandon Finnegan, drafted into pro ball just last June, already had landed with the Royals and was sandwiched in a locker between Shields and another veteran pitcher, Jason Vargas.
Measuring a horde of reporters eager to interrogate Finnegan, Shields carefully placed a bat on the floor as a boundary marker for the kid and the press.
Was Finnegan nervous in his first day in the Major Leagues?
"Yeah, definitely," he said. "These big-name guys, Shields, Vargas, Wade Davis. It's unreal. It's definitely something I'm going to have to take in and hopefully get a good experience out of it."
Finnegan was among three players from the Double-A Northwest Arkansas roster tabbed on Sunday to become September callups for the Royals. Finnegan and outfielder Lane Adams arrived on Monday. Outfielder Terrance Gore was expected on Tuesday.
Three other players, pitchers Aaron Crow and Liam Hendriks and infielder Christian Colon, are due to return Tuesday from their temporary assignment with Northwest Arkansas.
Finnegan, who was in the College World Series with TCU, was selected in the first round of the First-Year Player Draft by the Royals in June. He began as a starter with Class A Wilmington, then was sent to Northwest Arkansas to work in relief in anticipation of this move.
"When we break it down and look at it, he was one of the best options we had out of the left-handed side," said manager Ned Yost. "Let's go with it. We're looking for good arms, for guys we feel can compete up here. He fit all the prerequisites."
Finnegan got the word from Naturals manager Vance Wilson on Sunday. The pitcher's mother happened to be in Springdale to watch some games.
"She went into tears. It's definitely different than anything we've experienced. It's new to us. It's awesome," he said.
Finnegan is from Fort Worth and could make his Major League debut against his hometown team.
"I grew up a Rangers fan. Out of high school I got drafted by them. But we're enemies now," he said.
Yost said he'd ease Finnegan into action.
"All the reports say that this kid can help us. He's got good stuff, he's real competitive on the mound and he throws strikes," Yost said. "I don't have a master plan on how I'm going to use him day to day."
Adams made his big league debut during the Royals' 4-3 win over the Rangers, running for Raul Ibanez at first base in the eighth inning. He advanced to second base on a wild pitch.
"Lane Adams we brought up primarily to pinch-run. We've got guys in the middle of our order that aren't real fleet afoot," Yost said. "And then if something happens, he's a real good defender in the outfield. He's got power, too."
The ultra-fast Gore is also ticketed for pinch-running duty, although he has yet to report. His locker awaits, however, with uniform No. 0.
The Royals haven't had a zero on a player's back since George Scott in the club's first year, 1979.
Dick Kaegel is a reporter for MLB.com. This story was not subject to the approval of Major League Baseball or its clubs.