Royals' three-headed 'pen monster a terror for foes
Dominance of Herrera, Davis, Holland have opponents shaking heads in amazement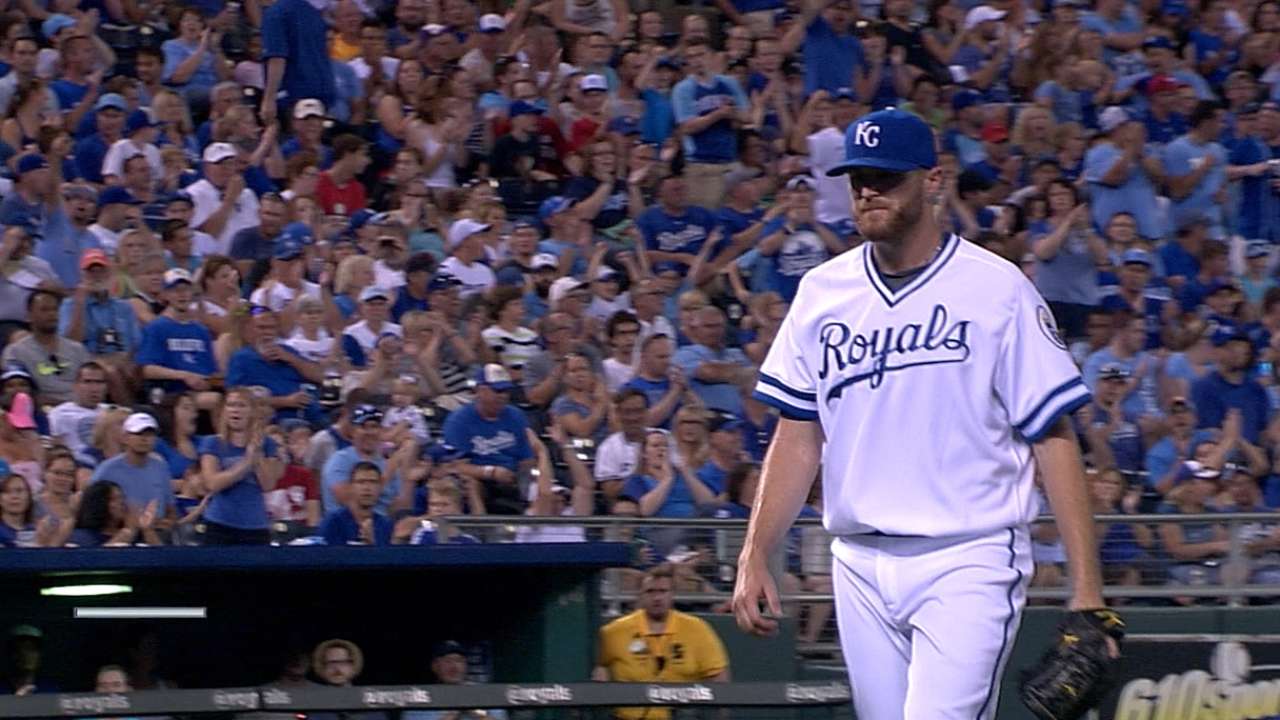 KANSAS CITY -- It's Aug. 9, and a couple of nascent Giants are in the visitors' dugout at Kauffman Stadium, lounging on the top of the bench, swapping horror stories about the vaunted Royals bullpen.
"Did you see the pitch he threw Joe, 3-2?" Matt Duffy asks fellow rookie Andrew Susac, the "he" being Royals reliever Wade Davis and "Joe" being fellow novice Joe Panik.
An exasperated Duffy continues: "That's a 95-mph slider in the dirt. On 3-2! That's not fair. You're not supposed to be able to do that."
But Susac has a rebuttal: "They were telling me [Kelvin] Herrera has the third-best stuff out of the 'pen, and he throws 100!"
Plaudits from opposing dugouts have become commonplace for a Kansas City bullpen that features at least three relievers who could conceivably close for just about any team in baseball.
Seventh-inning patroller Herrera, setup man Davis and closer Greg Holland receive most of the attention, and rightfully so.
"That's three outstanding arms, might be three of the best arms in baseball, I don't know," Rangers manager Ron Washington said.
Royals manager Ned Yost often admits that his game plan revolves around ensuring that he can hand the ball to the triumvirate with a lead. Yes, even with a starting rotation that ranks fourth in the American League in ERA, even with arguably the best defense in baseball, and even with a budding AL MVP Award candidate in Alex Gordon, Yost identifies the use of three relief pitchers as the key to his team's success.
But after a quick glance at the absurdity of what they've accomplished, it becomes evident why Yost places such a premium on seventh-inning leads. First off, Kansas City holds the best record in baseball when entering the eighth and ninth innings with a lead. While the club's 94.8 win percentage entering the seventh ranks third in MLB, it still would be better than the win percentage of nine teams entering the ninth.
Getting the job done
Shutdown 'pen a luxury for KC
• Record when entering the seventh ahead: 55-3 (94.8 win percentage)
• Record when entering the eighth ahead: 62-1 (98.4 win percentage)
• Record when entering the ninth ahead: 68-1 (98.6 win percentage)
The influence of Davis comes into play in the eighth, where the Royals are the only team in baseball with just one loss entering the frame, and they can thank Davis' one run allowed in his last 51 1/3 innings for that. It helps that he's bridging the gap to Holland, MLB's co-saves leader, with 42.
"The level of confidence is huge with those two guys," Yost said. "I manage the whole game around that. I try to figure out how I can get to Wade in the eighth and Holly in the ninth."
But with the recent second-half emergence of Herrera, Yost no longer fears making it through the seventh. Overall, the three have compiled 177 1/3 innings, while striking out 222 batters with a 1.22 ERA and a 0.970 WHIP. Since June 27, they have a 0.33 ERA in 81 1/3 innings, with 98 strikeouts.
The three rank in the top 10 in ERA out of 76 relievers with at least 55 innings pitched.
Reliever ERA rankings (55+ IP)
"Those three guys at the end, we were going over our advanced report today -- and we probably shouldn't have looked, because it didn't help," Cleveland manager Terry Francona said. "It's like [video] game numbers. They're good, they're really good."
The video game numbers derive from the stuff each reliever possesses.
Herrera regularly touches 100 mph on the radar gun. Davis throws in the upper 90s with tailing action, and he complements it with a vicious cutter and wicked knuckle curve. Holland's combination of mid-90s heat, brutal slider and his fall-off-the-mound delivery present a nightmare scenario for any hitter. Giants manager Bruce Bochy saw these arsenals firsthand on multiple occasions when Kansas City swept his team in mid-August.
"It's incredible the arms that Kansas City has," Bochy said. "I don't know how this many came out of the woodwork, and they have this many guys throwing 98 and that area, it truly is amazing to me. I don't know what has happened for that."
With 24 games remaining, Yost must find the balance between going to the well with these three to ensure his team reaches the postseason for the first time since 1985, while remaining reticent about not overworking them.
"It's not my challenge as much as it is our offense's challenge," Yost said. "Because the offense dictates how often these guys have got to be used."
Yost made all three unavailable for the Royals' 2-1 win over the Rangers on Tuesday, after each worked the previous three days.
The value Yost places in the trio was evident when he practically hogtied them to the bullpen bench Tuesday.
"I didn't even want 'em getting off that bench down there," Yost said. "I told 'em not even to get a pack of sunflower seeds. 'Don't get off that bench, have somebody get 'em for you.'"
With the influence they have had on the Royals' season, how could you blame him?
Jackson Alexander is an associate reporter for MLB.com. This story was not subject to the approval of Major League Baseball or its clubs.