MLB.com Columnist
Phil Rogers
Upstart Royals off and running in a New York minute
Using speed with some clutch hitting, KC looks to upstage Jeter in big set for contenders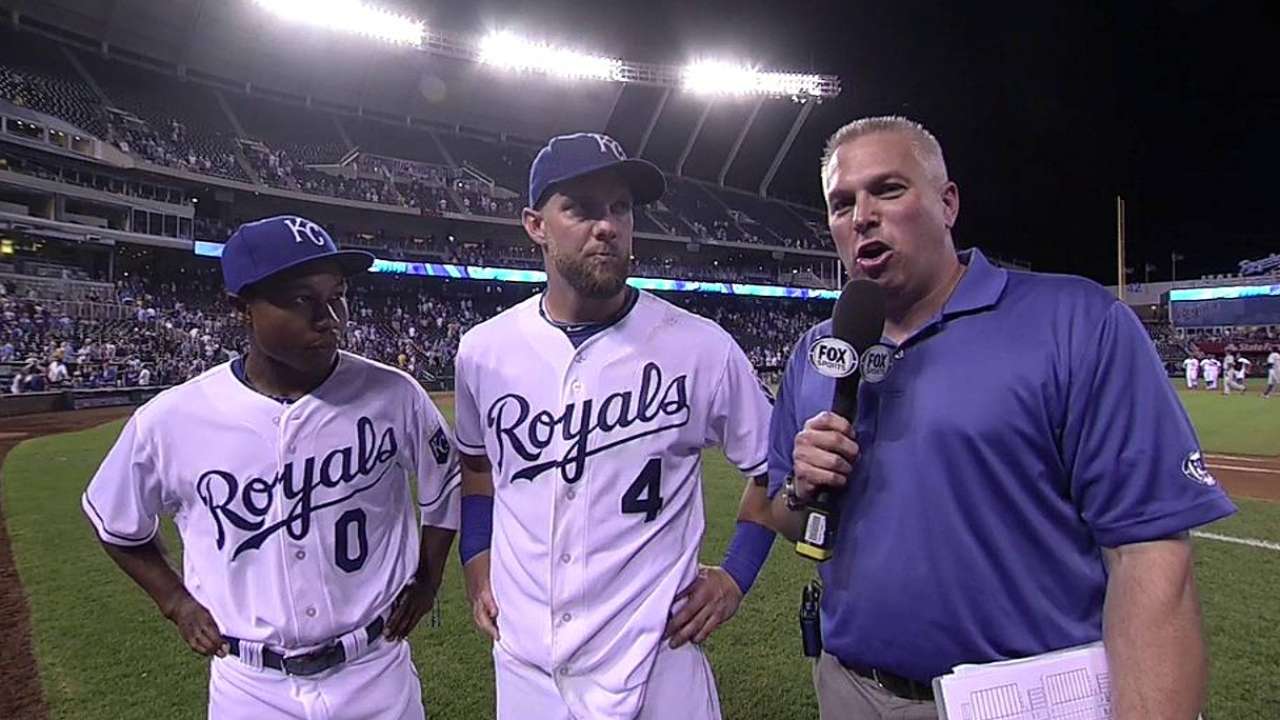 Ron Washington says it is becoming impossible to shut down the Royals' Jarrod Dyson on the bases, and that's only half of the problem for teams facing Kansas City these days.
"They've also got No. 0 over there," the Rangers' manager said during an appearance on MLB Network Radio.
Good call, Wash.
Terrance Gore, a 157-pound rookie who spent most of this season at Class A Advanced Wilmington, wears No. 0. He helped break open the Royals' 4-1 win over the Rangers on Wednesday night when he scored on a throw that sailed into left field while he was stealing third base. It was his 48th steal of the season.
"Pretty nice, huh?" Royals manager Ned Yost said in the Kansas City interview room after the game. "Speed puts a lot of tension on the defense. They know what it is. They know who he is. It just puts a lot of pressure on that defense, and things like that happen when you pressure a defense. He got a nice jump, stole the base. And the nice thing was that when he stole, he still got up and had presence of mind to know where the ball was. ... I thought he did a great job. It's going to be fun watching him."
Added to be a baserunning specialist, a la Billy Hamilton circa 2013, Gore is one of 11 players that the Royals promoted to the big leagues after Monday, when rosters expanded. That's evidence that they're all in on maximizing their chance to shock the Tigers in the American League Central and end a playoff drought that dates to 1985. And good for them and the fans in Kansas City.
With the Royals on a 29-11 roll, it looks like September is going to be a great month at Kauffman Stadium.
After being essentially swept by the Indians last weekend (the last game was suspended with them behind, 4-2, in the 10th inning, and will be completed on Sept. 22), the Royals bounced back to sweep the Rangers. They've had at least a share of first place for the past 24 days, and they've been positioned for a playoff spot for the past 28 days.
It might not yet be time to check that magic number at the start and finish of every day, but pretty soon it will be. The next challenge for the Royals is providing the opposition as the Yankees celebrate the legend of Derek Jeter. Then it's on to Detroit for a three-game series against the Tigers.
The plot thickens.
On the afternoon of July 22, the Royals were being severely tested. They had been swept at Fenway Park in the first series following the All-Star break, after dropping three of four to the Tigers in the series before the break, and they were 5-11 in July. Kansas City had averaged only three runs in those games.
"If you break it all down, if we hit, we're going to win," Yost said before a game at U.S. Cellular Field. "It's that simple. If we can score some runs, we're going to win ballgames."
Following a loss to the White Sox the previous night, the Royals held a players-only meeting. They apparently agreed with their manager -- it was time to start to hitting for some power and cashing in more timely hits.
Heading to Yankee Stadium for the Jeter celebration, the Royals have scored 175 runs in their past 41 games -- almost 4.3 per game. They are still last in the AL in home runs, but they have hit 33 in their past 41 games, a far better pace than early in the season.
Alex Gordon has been a catalyst. Ditto Josh Willingham, who was acquired from Minnesota in a trade on Aug. 11, and Billy Butler, who was due to start raking after hitting .273 with only three home runs in the first half.
There's even some AL MVP Award talk now surrounding Gordon. He's hitting .279 with an .814 OPS, 19 home runs and 65 RBIs, but his excellent play in left field boosts him to a 5.9 WAR, which ranks behind only Josh Donaldson, Mike Trout and Adrian Beltre.
So OK, Ned, what about Gordon for MVP?
"That's an unfair question to ask me," Yost said. "I'm very prejudiced. I just think Alex Gordon is a phenomenal player. He deserves every honor he can get. I just think the world of him. Do I think he's an MVP? Yeah, he's an MVP in my book."
Gordon for the AL MVP Award might seem like a reach. But it's certainly less of a reach than the thought of Kansas City winning the AL Central back when they were in Chicago in July, with a losing record (48-50) and an eight-game deficit to the Tigers.
The Royals have opened our minds, and the possibilities are exciting.
Sure, Sunday is going to be Derek Jeter Day at Yankee Stadium. But Alcides Escobar and the Royals will look to make their presence known. Behind Dyson and old No. 0, they're off and running -- and hitting a little bit, too.
Phil Rogers is a columnist for MLB.com. This story was not subject to the approval of Major League Baseball or its clubs.