Five things we learned from Royals' ALDS sweep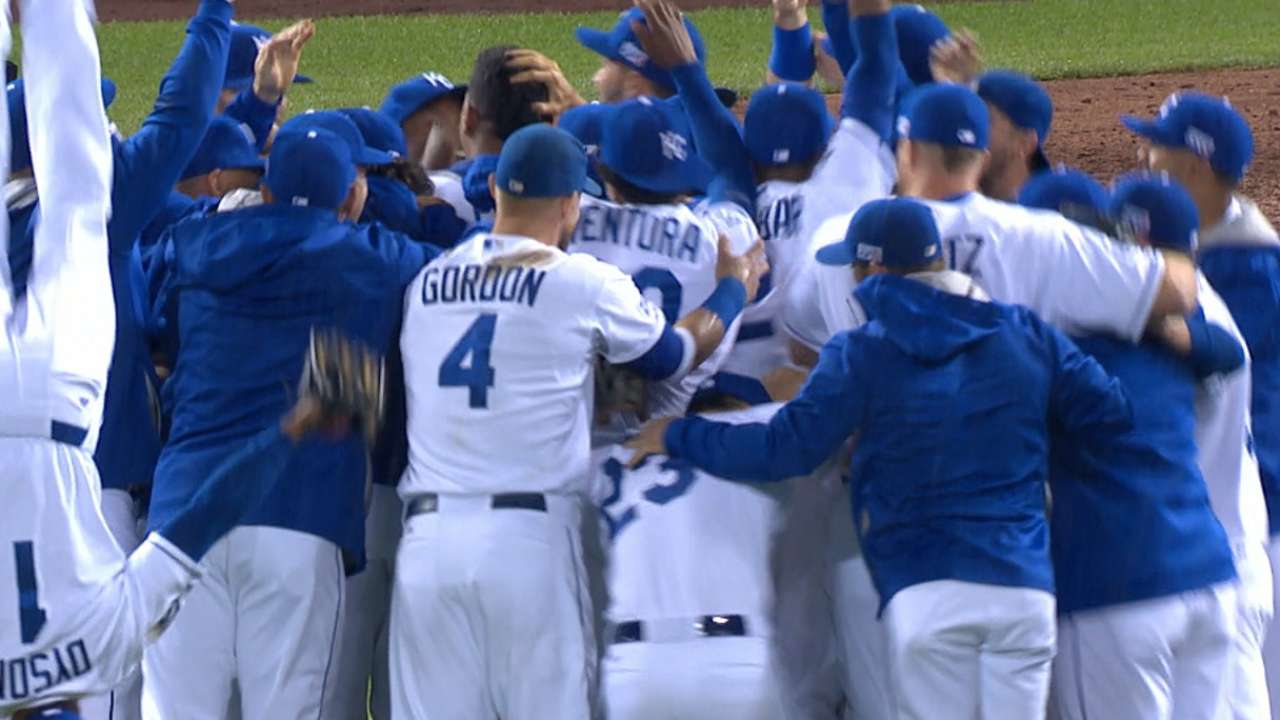 KANSAS CITY -- So we know that the Royals are going to play the Orioles in the American League Championship Series, and the winner will be going to the World Series for the first time since the 1980s.
It may end up being the Royals, because this is the third time the Angels have been swept in the AL Division Series. The other two times were by the Red Sox in 2004 and '07. Both of those years, Boston went on to win the World Series.
Other things we learned on Sunday night after the Royals completed the ALDS sweep with an 8-3 win:
Runners in scoring position futility: The Angels were almost historically bad with runners in scoring position. They were 1-for-12 in those situations on Sunday and 2-for-25 in the series. They are one of 21 teams that had two or fewer hits with runners in scoring position in a Division Series. Only three of those teams had more at-bats than the Angels.
Royals can win with power: K.C. hit two home runs on Sunday night. The club was 19-4 during the regular season when it hit two or more homers in a game. The Royals were 14-2 when they hit at least two home runs and stole one or no bases.
Better off in Texas: C.J. Wilson and Josh Hamilton went to two World Series with the Rangers in 2010-11. The last time they were on a team that won a postseason game was the Rangers in Game 5 of the 2011 World Series against the Cardinals. Wilson lasted just two-thirds of an inning against the Royals on Sunday night, while Hamilton went 0-for-13 in the three games.
You better watch the Butler: Royals designated hitter Billy Butler has just five regular-season stolen bases in his career. His last one came on July 5, 2012. But the Angels elected not to hold him at first after a one-out walk in the third. Butler ended up stealing second.
Center of attention: Each of the three games featured at least one excellent defensive play by a Royals center fielder. Lorenzo Cain made two in the fifth inning on Sunday night. With runners at first and second with one out, Cain angled hard in and to his right to make a diving catch on Albert Pujols' sinking line drive. Then he raced straight in and went to his knees to snag Howie Kendricks' liner. Cain ran off the field to a standing ovation while pitcher James Shields doffed his cap.
T.R. Sullivan is a reporter for MLB.com. Read his blog, Postcards from Elysian Fields, and follow him on Twitter @Sullivan_Ranger. This story was not subject to the approval of Major League Baseball or its clubs.