Hosmer putting up MVP-worthy numbers in first postseason
First baseman leads group of homegrown talent to next round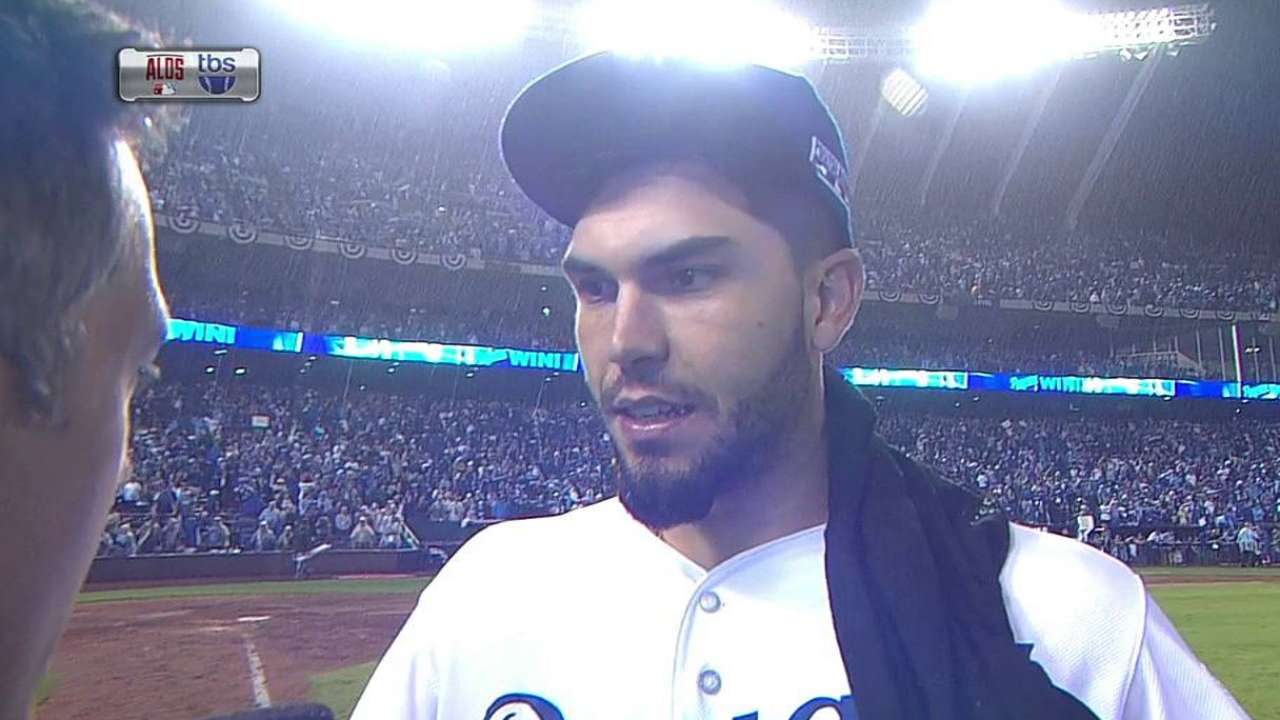 KANSAS CITY -- They don't award an MVP trophy in the first round of the playoffs. In the Royals' case, that's probably a good idea because there were multiple worthy candidates in their three-game sweep of the Angels in the American League Division Series.
But Eric Hosmer probably would have been as good a choice as any and he punctuated a fantastic six days with a two-run home run in the third inning off of Angels reliever Hector Santiago on Sunday night.
Throw in what he did against the Athletics in the Wild Card Game and Hosmer is 7-for-14 with five runs scored, five walks, two home runs and five RBIs so far in his first postseason experience.
"It's been a lot of fun for us," Hosmer said. "It's times like this that we've been prepared for, and we're been preparing for in the Minor Leagues for a long time. I think every single person in that locker room is showing that right now with the way we've been battling back, the way we've been in some holes and we've had our season on the line at times.
"We want to win. That's all we care about. The numbers are, that's for the scoreboard and for the fans to see, but when it all comes down to it, we want to win, and we're going to do anything we can at all costs to win."
Hosmer had help. Alex Gordon had a three-run double in the bottom of the first that wiped away the Angels' 1-0 lead and Mike Moustakas hit his second home run of the series as well. All three are former No. 1 Draft picks, finally delivering for the Royals.
"Our homegrown players were huge for us," Royals manager Ned Yost said. "I told the boys with about a week to go, look, some of you guys haven't had years that you really wanted to have, but we get to the playoffs, nobody is going to remember that, and we've gotten to the playoffs now. Mike Moustakas, Eric Hosmer, these kids are all stepping up big-time and putting us in the position that we're in now. "
The Royals keep saying that pitching, defense and speed are their strengths. But they showed in Game 3 that they can flex some power at the plate as well.
"There's a lot of satisfaction in winning the game," Moustakas said. " It doesn't really matter how we do it. We'll bunt, we'll hit and run, we'll do it any way we can. Tonight we were able to hit a couple big homers. Hos' blast was huge for us. We don't really care how we win ballgames, just as long as we get a W at the end of the night. We go out every night with intentions to win and whatever we can do to win, we'll do it."
T.R. Sullivan is a reporter for MLB.com. Read his blog, Postcards from Elysian Fields, and follow him on Twitter @Sullivan_Ranger This story was not subject to the approval of Major League Baseball or its clubs.