Royals' playoff win streak halted by Giants in Game 1
Shields allows five early runs, while KC bats can't solve Bumgarner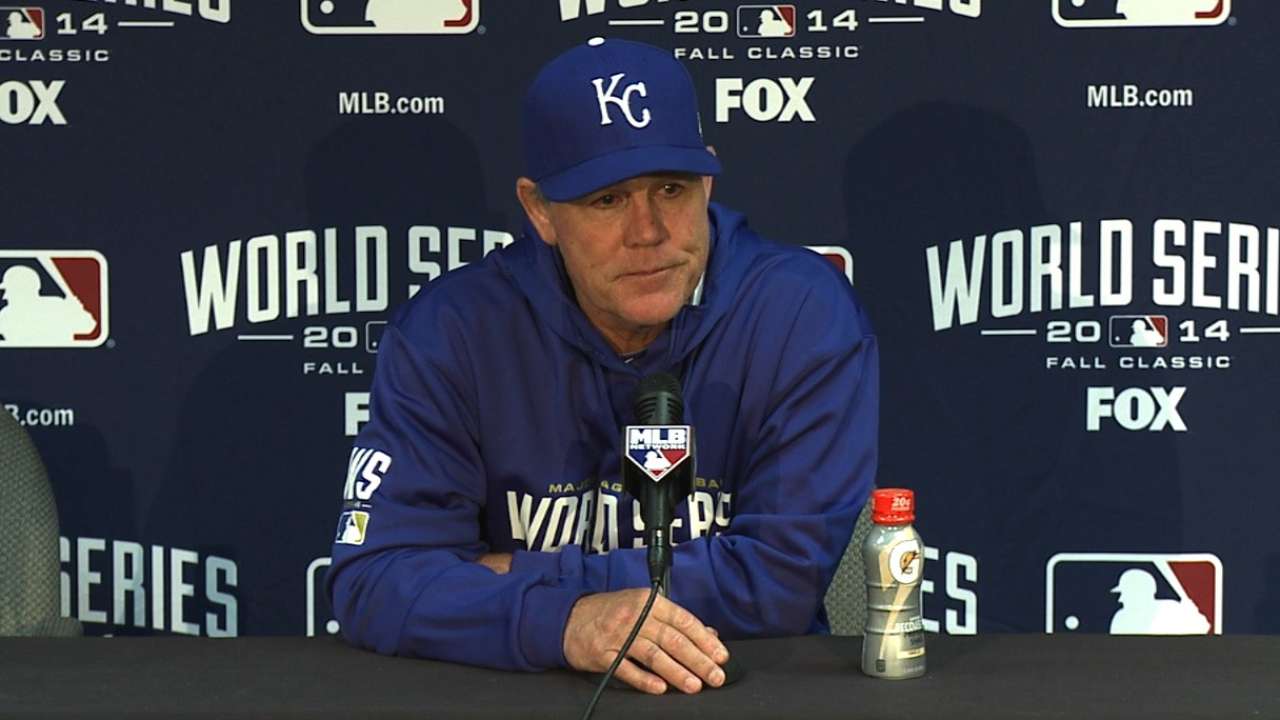 KANSAS CITY -- Say this for the San Francisco Giants: They sure know how to take the steam out of a party. Kansas City had waited 29 years for its Royals to get back to the World Series and folks were rollicking through a true blue festival.
Then along came the Giants with a three-run first inning and left-hander Madison Bumgarner putting up zeros. Before the sellout crowd of 40,459 at Kauffman Stadium knew it, they were seeing the Royals absorb a 7-1 loss Tuesday night in Game 1 of the 110th Fall Classic. It ended their string of eight straight postseason victories.
The Royals managed just four hits, including Salvador Perez's home run. Their starter, James Shields, gave up three runs in the first inning -- two on Hunter Pence's homer -- and was gone by the fourth. Bumgarner, though, held the Royals to three hits in seven innings.
"We already forgot about it," said the Royals' Mike Moustakas. "That stuff's already done and in the past. There's nothing we can do to change it. We're already looking forward to what's going on [Wednesday]."
Not that the Blue Zoo stopped hooting and howling, but maybe the partisans should have suspected something. After all, teams scoring three runs or more in the first inning of a World Series opening game had emerged a pristine 10-0. Make that 11-0 now.
In 1985, the last time the Royals were in the World Series, they also scored just one run in the opener, losing to St. Louis, 3-1. They lost Game 2, too, but became one of only three teams -- the 1986 Mets and 1996 Yankees are the others -- to lose the first two games at home and win the World Series.
Shields gave up five runs in the first four innings to put the Royals in a deep hole. The Giants dinged him for five hits in the first inning, including Pence's two-run big fly, as San Francisco jumped out to an early 3-0 lead.
He's had a rough go in three of his four postseason games, but said: "I feel pretty good physically. I've just made some bad pitches in key situations when I needed to step up and make some pitches."
Manager Ned Yost stood by his staff leader and said he'd start as planned in a potential Game 5.
The Royals blew their big chance to rally against Bumgarner in the third inning which began with two runners in scoring position and no outs and resulted in a big zero.
THE MOMENTS THAT MATTERED
First impression: The Giants did their best to un-buzz the blue throng with a three-run first against Shields. Singles by Gregor Blanco and Buster Posey preceded Pablo Sandoval's one-out double to the right-field wall. Blanco scored but Posey was thrown out at the plate on Omar Infante's relay to Perez. Deafening roar.
Pence quickly deflated that joy by pounding a 3-2 pitch over the right-center-field wall, a two-run homer. By the time Brandon Belt added a single and Michael Morse struck out, Shields had thrown 32 pitches in just one inning and left-hander Danny Duffy was warming up in the bullpen.
"It was just kind of one of those games," Shields said. "Obviously, I let in the first run when I kind of hung a curveball to Sandoval. And then I got deep in the count to Pence and made a bad pitch up in the zone and he took advantage of it. I didn't do my job."
Bummed out: An error and Moustakas' double down the right-field line gave the Royals two runners in scoring position with no outs in the third. But Bumgarner struck out Alcides Escobar and Nori Aoki and, after a walk to Lorenzo Cain to load the bases, got Eric Hosmer to bounce out. Three stranded.
"They threw me first-pitch fastball, foul ball. Second pitch slider down the middle, foul ball again -- and I missed my two pitches," Escobar said. "I said, 'C'mon, Esky.' Then I said, 'C'mon, Aoki, pick me up,' and Bumgarner struck him out, too. And I said, 'Wow, that guy's tough.'"
Moustakas and Infante were stranded.
"When you've got a guy like that [Bumgarner] with runners in scoring position and nobody out, those are important runs that you've got to find ways to push across, and we just didn't get it done," Moustakas said. "Esky's been clutch for us all year long and the same with Aoki. Cain had a great at-bat and Hoz just came up a little bit short."
A reprieve for Salvy: Perez was just 4-for-36 in the postseason when he powered Bumgarner's 1-2 pitch into the left-field bullpen.
"I feel much better and saw a lot of video," Perez said. "He throws a lot of fastballs inside, so I was ready for that and hit it pretty well."
It was the game's highlight for Hosmer, himself cooled down by a 0-for-4 after going 13-for-29 (.448) previously.
"The biggest thing was Salvy hitting a home run. That's a big bat we need in our lineup," Hosmer said. "If we can get him hot, that makes our lineup deeper and that much more effective."
Three batters into the fourth inning, Shields was finished. Pence doubled, Belt walked and Morse singled home a run. Duffy, who had not pitched since Oct. 2, came in and showed some rust. After pinch-hitter Juan Perez sacrificed the runners up a base, Duffy walked both Brandon Crawford and Blanco to force in a fifth run.
But Duffy steadied himself and retired the next eight batters before tiring and giving up Joe Panik's triple.
"I was really happy with his outing," Yost said. "Once Danny got settled down, he did a nice job -- until he got tired there about the 60-pitch mark."
ONE FOR THE HISTORY BOOKS
Perez, with his homer, put an end to Bumgarner's Major League postseason record streak of 32 2/3 scoreless innings on the road.
It also was the first World Series run he'd ever given up, after 21 scoreless innings. That the second-longest Series scoreless streak after Hall of Famer Christy Mathewson, who had 28 straight.
"It's tough not to pay attention to a streak when you've got it going. I don't care," Bumgarner said. "I'm not here trying to set records and keep streaks going, but you do know about it. A World Series game is not something you exactly forget about, so you remember what they were. But tonight that was the last thing on my mind."
Teams that take a 1-0 lead in the World Series have won the championship 69 times and lost 40 times. That includes Game 2 of the 1907 Series because Game 1 ended in a tie.
The Giants have not lost the opener of a postseason series since losing Game 1 of the 1997 National League Division Series to the Marlins. Since then, they're 8-0 in openers.
The Giants continued their trend of jumping on opposing Game 1 starters, making Shields their latest victim. Game 1 starters are a combined 0-8 with a 6.96 ERA against the Giants in their 10 series-opening games, dating back to 2010. None of those 10 starters -- Shields, Adam Wainwright, Stephen Strasburg, Edinson Volquez, Justin Verlander, Lance Lynn, Johnny Cueto, Cliff Lee, Roy Halladay or Derek Lowe -- turned in a quality start.
Kansas City's 11-game postseason winning streak (eight games in 2014, three in 1985) is the second longest in history. The Yankees twice had 12-game postseason streaks.
Shields' outing Tuesday was the shortest by a Game 1 World Series starter since 2005 when Roger Clemens departed after just two innings in an eventual 5-3 loss. Though Clemens had allowed three runs over the first two innings, he was apparently removed due to a strained left hamstring. As far as non-injury-shortened starts, Shields' three-plus innings outing was the shortest for Game 1 of the World Series since 2004 when Woody Williams allowed seven runs over just 2 1/3 innings for the Cardinals en route to an 11-9 loss.
The Royals will send rookie right-hander Yordano Ventura against Giants veteran right-hander Jake Peavy in Game 2 on Wednesday on FOX at 6:30 p.m. CT/7:30 p.m. ET with the first pitch at 7:07 p.m. CT/8:07 p.m. ET at Kansas City's Kauffman Stadium.
Dick Kaegel is a reporter for MLB.com. This story was not subject to the approval of Major League Baseball or its clubs.