Giants-Royals, World Series Game 1: Did you know?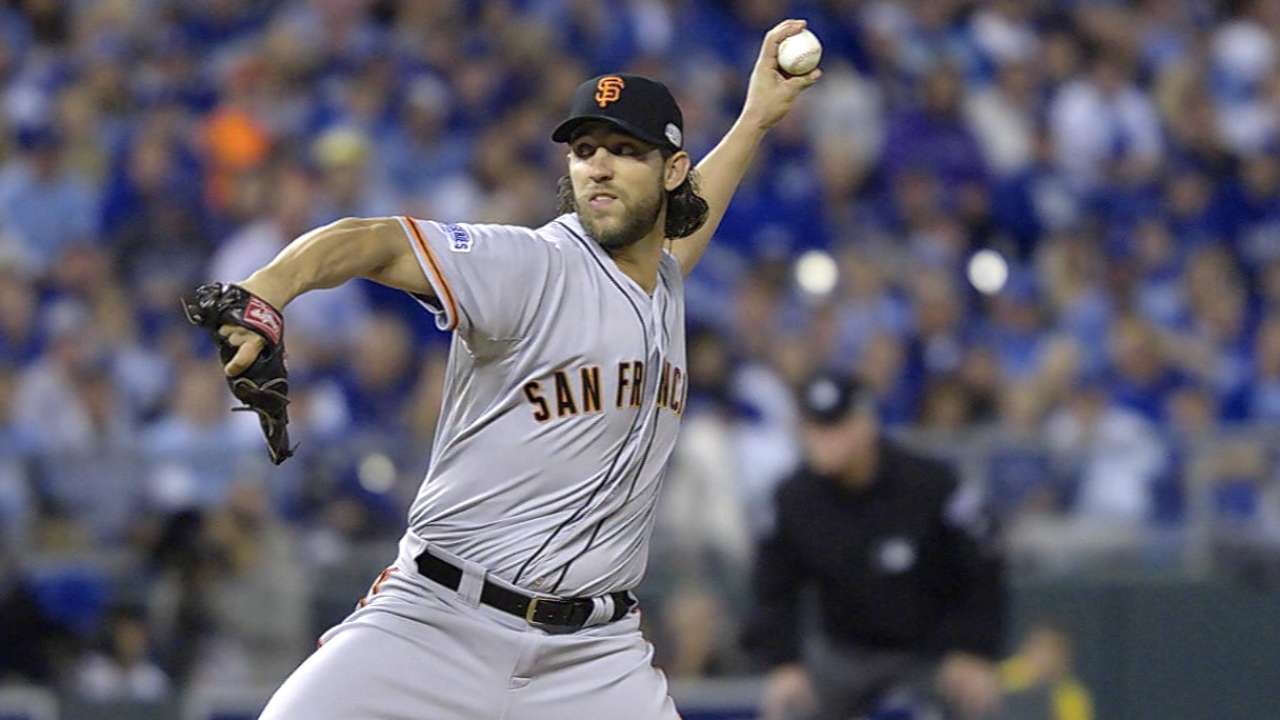 The Giants found a way to do what nobody else had been able to this postseason, defeat the Royals. With a 7-1 win in Game 1 of the Fall Classic on Tuesday night at Kauffman Stadium, San Francisco sits three wins away from its third World Series title in five seasons.
The Giants raced out to an early lead and ace Madison Bumgarner continued his postseason heroics as Kansas City took its first loss of the 2014 postseason.
From the importance of winning Game 1, to Bumgarner's historic numbers, to the Giants' overall postseason success, here's a look at some of the interesting facts and figures to come out of Tuesday night's game.
• The winner of Game 1 has gone on to win 10 of the last 11 World Series. The lone exception was the 2009 Phillies, who won Game 1, 6-1, but lost the Series to the Yankees in six games.
• Bumgarner, 25, twirled another gem, matching the all-time record for most World Series wins before the age of 26. Bumgarner is now 3-0 in the Fall Classic in his career, joining Jim Palmer, Babe Ruth, Ernie Shore, "Smoky" Joe Wood and Christy Mathewson as the only players with three Series victories before turning 26.
• Salvador Perez's homer to start the seventh inning snapped Bumgarner's 21-inning scoreless streak in World Series play. That's the second-longest streak to start a World Series career, trailing only the Hall of Famer Mathewson's 28.
• Hunter Pence was 0-for-11 in his career against James Shields -- his worst 0-for against any pitcher -- before going 2-for-2 off the Royals' ace with a home run and a double in Game 1.
• Pence's two-run homer was part of a three-run first inning that staked the Giants to a lead they would never relinquish. San Francisco has now scored first in seven straight World Series games, dating back to 2010. The Giants are also 9-1 in World Series games under manager Bruce Bochy.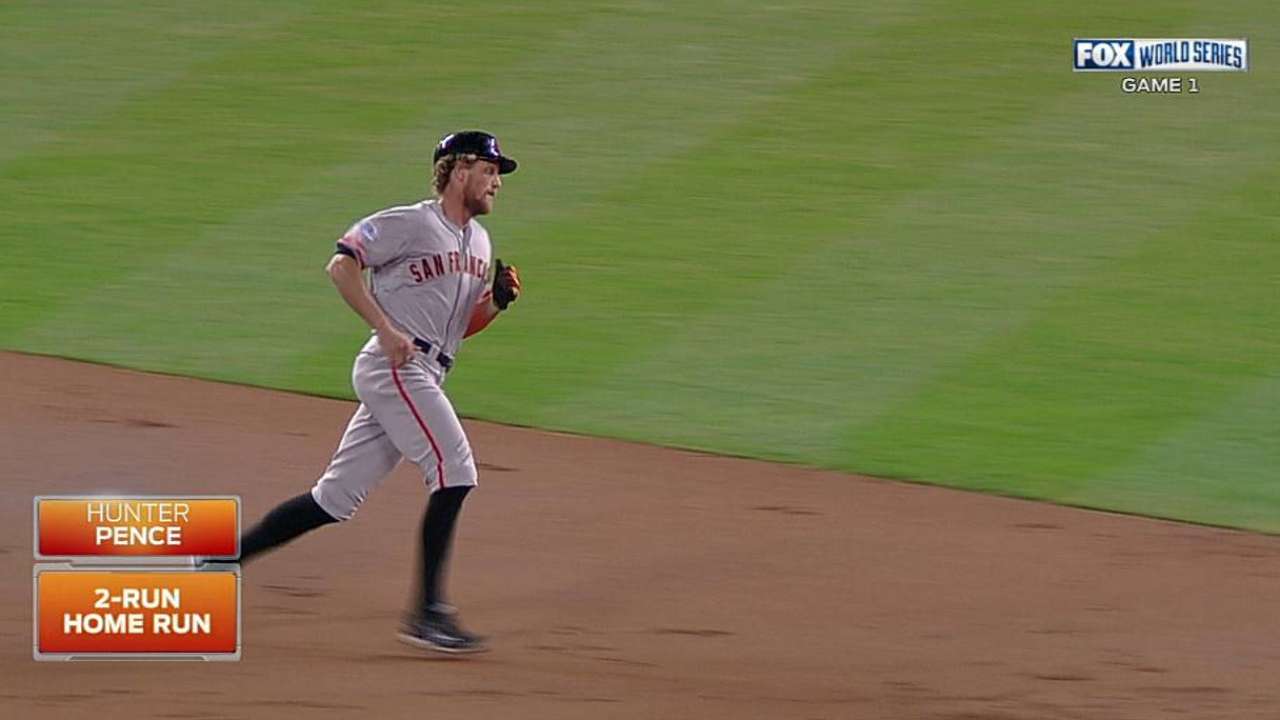 • Pablo Sandoval also played a key role in the first inning, putting the Giants on the scoreboard with an RBI double, then scoring on Pence's homer. Sandoval, who finished the night 2-for-5, has now reached base safely in 24 straight postseason games, good for the longest active streak and fourth-longest all-time. Tigers slugger Miguel Cabrera holds the record at 31 straight games.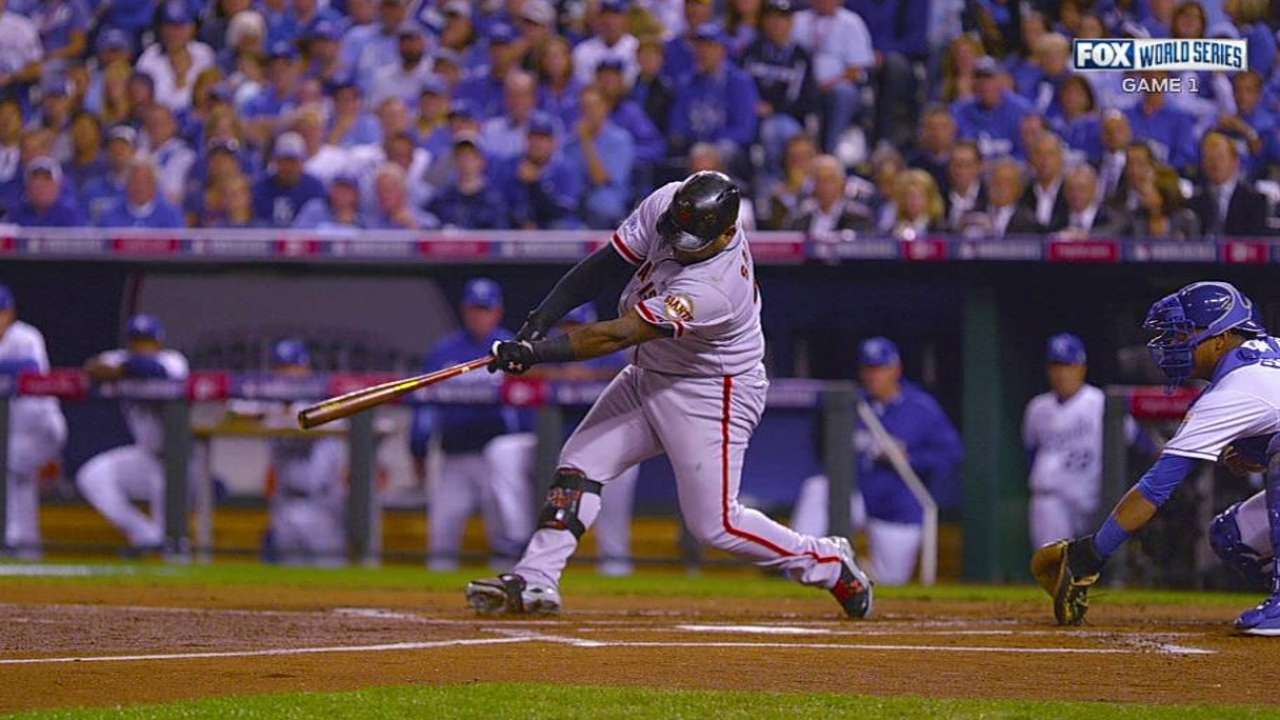 • With their fast start Tuesday night, the Giants became the first National League team to score three runs in the first inning in Game 1 of a World Series since the 1960 Pirates. It had been done six times by American League teams during that span. The Red Sox had accounted for the last three such occurrences, doing it in each of their last three World Series appearances in 2004, '07 and '13.
• Prior to Tuesday night, the last time the Giants had five hits in a single inning was on Sept. 12 when they did it -- also in the first inning -- against Hyun-Jin Ryu and the Dodgers. San Francisco scored four runs in the opening frame en route to a 9-0 victory on a night when Bumgarner was its starting pitcher.
• The Giants extended their postseason record for consecutive road Game 1 victories to eight. No other team has won more than five straight postseason-series-opening road games. As for Game 1s overall, San Francisco is now 13-2 over its last 15, dating back to 2000.
• The Giants continued their trend of jumping on opposing Game 1 starters, making Shields their latest victim. Game 1 starters are now a combined 0-8 with a 6.96 ERA against San Francisco in its 10 series-opening games since 2010. None of those 10 starters -- Shields, Adam Wainwright, Stephen Strasburg, Edinson Volquez, Justin Verlander, Lance Lynn, Johnny Cueto, Cliff Lee, Roy Halladay or Derek Lowe -- turned in a quality start.
• The Royals haven't had nearly as much Game 1 success in their limited opportunities, as they are now 0-3 in World Series-opening games. They actually lost Games 1 and 2 -- both at home -- to the Cardinals before rallying to win their only title in 1985.
• Kansas City shouldn't bank on doing that again, however, as only three of the 13 teams that fall behind 0-2 at home in the World Series went on to win. Teams that salvage a split in the first two games at home are a much more encouraging 24-19. In addition to the '85 Royals, the other two teams that fell behind 0-2 at home but won the World Series were the '86 Mets and '96 Yankees.
• Shields gave up only two first-inning homers in 34 starts during the regular season, but has now served up three first-inning long balls in four starts this postseason.
• Shields' outing Tuesday was the shortest by a Game 1 World Series starter since 2005, when the Astros' Roger Clemens departed after just two innings because of a left hamstring strain in an eventual 5-3 loss to the White Sox. As far as non-injury-shortened starts, Shields' three-plus inning outing was the shortest for Game 1 of the World Series since 2004, when Woody Williams allowed seven runs over just 2 1/3 innings for the Cardinals en route to an 11-9 loss to the Red Sox.
Paul Casella is a reporter for MLB.com. Follow him on Twitter @paul_casella. This story was not subject to the approval of Major League Baseball or its clubs.